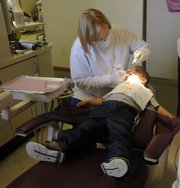 Clinics and organizations that offer free health services are bracing for financial cutbacks at a time when they are needed the most.
"I think every service, whether it's education, health, human service or whatever, has near-total uncertainty about what's going to happen economically," said Marcia Epstein, director of Headquarters Counseling Center in Lawrence. "Everybody is doing the most they can with the resources they have."
Headquarters Counseling Center offers counseling and information for adults and children 24 hours a day, seven days a week. In 2008, it was contacted 18,492 times, up 15 percent from 2007.
Epstein said counselors are hearing a lot more about financial and unemployment stresses, which is a concern because the amount of assistance for these people is limited.
"People are worried about how to keep utilities on, and there are only a certain number of programs to help with utility assistance, and demand on them is always really high and now it's even worse," she said.
She also said it can be hard for people to reach out when they have lost a job.
"Honestly, people who have lost their jobs are humiliated by it," she said. "It's scary, but it's also embarrassing."
That's why Headquarters Counseling can be a good place to turn because people can be anonymous and are not required to fill out paperwork.
Epstein said unemployment can lead to all sorts of problems. The unemployed also might lose health insurance, vehicles and homes. They might not be getting sleep, and their health might decline. This often results in anger and can lead to an assortment of trouble.
"Suicide doesn't typically happen because of one stressor, but when there's this pile — layer, after layer, after layer, after layer — sometimes people get to the point where they don't know if they can keep going," she said.
That's why Epstein said they have no choice but to look for more funding as their financial sources are cut.
"We can't have a crisis center and be closed certain hours, because those crises aren't predictable. We get suicide calls during the middle of the day and during the middle of the night," she said.
The center's annual budget is about $220,000. Its three main funding resources is United Way of Douglas County, a student activities fee at Kansas University and revenues from the city's alcohol tax. Revenues from KU were cut by $10,000 two years ago. Epstein expects that funding to be cut even further in July as a side effect of a possible tuition freeze. The center also expects the funding from the alcohol tax to be cut in half because the state wants it.
So the four full-time staff members will try to raise money through grants and fundraising on top of an already full workload. They provide counseling, train new volunteers and handle administrative work. They also provide safety, prevention and bereavement programs in the community.
"We are all balancing a lot of responsibilities," she said.
Dental clinic
The Douglas County Dental Clinic shares in the pain of finding funding to operate.
The clinic provides care to those who meet poverty guidelines and who do not have dental insurance. It is the only such clinic in the state and operates on an annual budget of $660,000. Its funding comes from Medicaid reimbursements, reduced fees paid by patients, United Way of Douglas County and grants.
"There's more people looking for funding, and they have less to give. It's going to be a tough year or two with private foundation grants, just with the competition that's out there," said Julie Branstrom, executive director of the clinic.
For the first time, the clinic is eligible to apply for funding from the Kansas Department of Environment and Health this year.
"We are hopeful that we will receive some funding. I think with our current state budget the way it is, it's not likely we are going to get what we need, but even if we get a little bit and to know that that door is open for funding in subsequent years is really a great thing," she said.
The clinic is helping more patients each year. In 2008, it helped 2,477 people, up 14 percent from 2007. Branstrom said they are seeing more people who qualify for the lowest fee level. For a household of four, that would be $21,200 a year or 1,767 per month.
"They are the poorest of the poor, and it's probably in a lot of cases due to our current economy and losing their jobs," she said.
Branstrom said the reduced fees for those patients don't cover the clinic's cost to deliver that care.
Another problem is that people often wait until they are in pain before seeking dental care. About 95 percent of the patients have tooth decay.
"It costs so much money to come to the dentist, and they can't afford to come for a routine exam and cleaning, and so they wait until they have an issue and it's more crisis rather than preventative steps," Branstrom said.
Her goal for the next year is to maintain the level of services that the clinic provides. She also wants to expand its "Friendly Smiles" program, where a licensed hygienist provides dental exams and cleanings in Lawrence and Eudora schools. Branstrom wants to expand the services to Baldwin City and other surrounding communities.
"We are finding this is catching a lot of kids who would have been falling through the cracks," she said. The hygienist may see signs of tooth decay and can refer them to the clinic.
Branstrom said they are also testing the program in the frail and elderly population. Of course, the success of the program relies on funding, and she has her fingers crossed.
"Finding funding for general operating expenses is very hard," she said. "We always operate on a razor-thin budget."
Health clinic
Health Care Access, which provides primary medical care for the uninsured, is looking at cutting services because of financial cutbacks.
The clinic operates on a $444,000 budget. About 50 percent comes from the state, city, county and United Way of Douglas County. The rest is from fundraisers, grants and private donations.
Nikki King, executive director, said there's simply less money to go around, so they are fighting for every dollar the clinic can get.
It comes at a time when they are seeing a record number of patients. In 2008, the clinic served 1,703 patients and provided more than $4 million worth of care through collaboration with doctors, donated services from Lawrence Memorial Hospital and more than 30 pharmaceutical companies.
It currently employs one full-time employee to fill out the paperwork for the free medication, and that may change due to lack of funding from the city and state.
"We will be shifting the process to patients themselves most likely, which unfortunately is fairly cumbersome and complicated," King said. "So we are a little fearful of the outcome of our patient's health care if they are having trouble maneuvering those systems."
Last year, the clinic was able to generate $1.2 million in free medicine for the patients.
King said she hopes the clinic will not have to cut back on hours or other services. The clinic has about eight full-time workers. She said the rising demand has pushed the wait for an appointment to about six weeks. They try to keep same-day appointments open for acute care.
"The goal is to maintain services if not grow them with the demand growing," she said.
"For the last two years, there have been a record number of patients served in our 20-year history. The founders never expected that we would need Health Care Access for more than a couple to three years after they got started, but here we are bigger than ever and looking for more capacity."
Copyright 2018 The Lawrence Journal-World. All rights reserved. This material may not be published, broadcast, rewritten or redistributed. We strive to uphold our values for every story published.