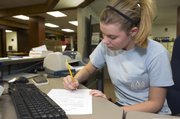 Related document

Make your perfect resume ( .PDF )
It's tough to sort through the sea of paper and online files.
A recent survey by CareerBuilder.com found that one in four human resource managers is receiving 75 applications for every one open position; an additional 42 percent say they're receiving 50 applications or more.
Also, 55 percent of those managers say they spend 2 minutes or less reading applications when they come in.
So the challenge of making your résumé and cover letter stand out from the pack has become more important than ever.
"I would say with the competition being greatly increased, absolutely," said Megan Hill, associate director of the Kansas University Career Center. "The résumé is what's going to get you the interview. It doesn't necessarily get you the job, but it gets you the interview."
Here are some tips for doing just that:
• When it comes to style versus substance, both are important. Hill suggests building your own personal brand — "designing every piece of the résumé so the cover letter, résumé, mailing letter and envelope, and thank-you letter are coordinated and designed to tie things together, visually."
Maybe that's designing a logo or using a particular font. Or it could be as simple as making sure your paper and envelopes match on all of the elements.
• Always include a cover letter — even if you're dropping off the résumé in person.
And, Hill said, the cover letter often replaces the "objective statement" that once was included in most résumés. But if it seems like an objective statement is still needed on the résumé, feel free to include one, as well.
• Keep it professional.
"No hot pink," Hill said.
• But don't feel stifled.
"There's certainly room to be creative," she said. "This is an expression of yourself."
And that depends, in part, on the job you're trying to land. A woman Hill knows who got a job in the creative department at Hallmark Cards had a question-and-answer portion of her résumé that included answers in two columns — the funny answer and the real answer.
• The one-page résumé is still the norm.
"I think it depends on whether you're a new professional who has had one to two professional job experiences or someone who has had a wealth of experience," Hill said.
• Be careful.
"No typos," said Allison Nawoj, career adviser for CareerBuilder.com. "I think typos are always a huge eyesore. They definitely put your résumé to the bottom of the pile."
• No mass-mailing of the same cover letter and résumé to multiple employers.
"For each one, you need to be including things about that company," Nawoj said. "They like to see keywords related to the job — that can help job-seekers as well. Use key words — buzzwords — from the employer's side. They can match those right away and filter out the others."
• Be positive — both on paper and in the interview.
"I think if (a job) didn't end well, I wouldn't necessarily advertise that on your résumé," Hill said. "In the job-search situation, whatever you can do to draw out from the experience, use that — anything you can do to make it sound positive.
"I've definitely heard employers talk about people who come in for interviews, and they're prone to being really negative. That's not something they're looking for in a candidate for a job. They're impressed by someone who has had a negative experience and remains positive and learned something from it."
Interviewing tips
If your résumé and cover letter have you in the door, here are some tips from CareerBuilder.com about the next step: success in your interview: • Understand the importance of the first few minutes. A CareerBuilder survey of hiring managers showed it took about 10 minutes for them to form an opinion of job-seekers, despite interviews that lasted an hour or more. That shows the importance of projecting enthusiasm, professionalism and confidence, both in appearance and demeanor. Be aware of your first comments and body language (firm handshake and eye contact are good), but don't overdo it. CareerBuilder says one job-seeker came across insincere by gushing over personal photos in the hiring manager's office, according to the manager. • Expect the predictable questions, including: 1. Tell me about yourself?; 2. What do you know about our firm?; 3. Why do you want to work here? 4. Why are you looking to leave your current position?; and 5. What is your most significant professional accomplishment? • Know more than the basics about your prospective employer. • Help the employer understand the value you bring. Apply your own background and skills to the current needs of the company. • Be yourself. Let your personality come through in your responses by using your sense of humor when appropriate. Interviewers want to see how you would fit into the office culture.
Copyright 2018 The Lawrence Journal-World. All rights reserved. This material may not be published, broadcast, rewritten or redistributed. We strive to uphold our values for every story published.