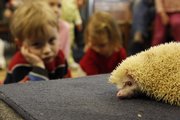 Marty Birrell considers it a citywide performance review.
When city officials floated a proposal to close the Prairie Park Nature Center in February, residents came forward in droves in support of the nature center.
"It is a great place to go if you need information on animals," youngster Eva Bradley told the Lawrence City Commission. "And it is a good place to go if you are not feeling happy."
It was a typical response that night, as person after person came forward to support the center.
"The reaction from the community was very heartening," said Birrell, who has been the center's director since it opened 10 years ago. "People value this as a resource. We thought it was a nice evaluation of our jobs."
As other city resources face possible cuts, the Prairie Park Nature Center lives on to celebrate one decade.
"The reaction we had was, after building a program for 10 years, we didn't want to see it close," Birrell said. "The reaction from the community was very heartening. People value this as a resource."
But after people stood in line to support the center, which is at 2730 SW Harper St., the reaction left others with the question: What does it do?
Well, here it is.
Education
When students in Kris Leggins' second-grade classroom at Prairie Park School heard the nature center might close, they didn't start a science lesson.
They started a government lesson.
"The day it came out in the paper that it might close, the whole school was abuzz," Leggins said. There was talk of posters and fundraisers — anything to save the center that many classrooms visit several times a year.
"We got to sit down and review our government unit," Leggins said, "and how city government works."
Leggins said students often visit the center outside of school, too.
"We just think it's a very useful resource in our neighborhood," she said. "There are not a lot of things in our neighborhood that are within walking distance."
The staff at the Prairie Park Nature Center — two full-time, four part-time and additional seasonal staff members — gives nearly 400 tours and programs a year that reach around 20,000 people. That includes both on-site events and events off-site. Birds of prey, including a Bald Eagle, are among the most popular touring animals, and they often travel outside Lawrence.
"We end up reaching far beyond the Lawrence community," Birrell said.
Other education
The phone rings often at the nature center.
Usually it's someone asking if a snake found in his or her backyard is venomous. Almost always, it's not, but occasionally it is.
There also are plenty of calls asking about nuisance squirrels, armadillos and other random animals.
Sometimes, staff has to go to a site to check it out.
"We encourage the public to call us first so we can troubleshoot the issue," Birrell said.
Animal rehabilitation
Sometimes, those random animals end up on the nature center's front step, such as a box full of bunnies or birds that have been injured.
"We take in a large number of those kinds of animals," Birrell said. "It's not something we want to encourage people to do."
The reason, mainly space and staff, she said: "The city of Lawrence did not set this up to be a rehabilitation facility."
Zoo, of sorts
Still, sometimes those random animals end up adding to the draw of the place. The center gets around 30,000 visitors a year.
The core animal collection includes 13 birds of prey (including owls, the eagle, a peregrine falcon and others), parrots, a possum, chipmunks, a hedgehog, ferrets, prairie dogs and spiders.
Urban habitat preservation
In addition to caring for the nature center and doing educational programs, the Prairie Park staff is charged with caring for 80 acres of native urban wildlife habitat that is nearby, which includes Mary's Lake, which was created in the 1950s.
Volunteers come in to clean up the area.
"The park looked pretty awful when we started 10 years ago," Birrell said. "There was broken glass and some pretty nasty parties there. We feel like we've made a good established relationship through the volunteer involvement there."
Despite the turmoil over the past few months, Birrell hopes to focus on the future.
"It's our 10-year anniversary," she said. "We're glad we're going to have one."
Copyright 2018 The Lawrence Journal-World. All rights reserved. This material may not be published, broadcast, rewritten or redistributed. We strive to uphold our values for every story published.