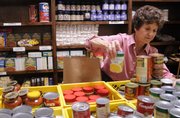 When your own pocketbook is in a vise, giving money may seem like a difficult proposition. But local churches have yet to notice a change in the giving nature of their parishioners.
"In the giving pattern, no. Of people, no," said the Rev. Mick Mulvany of Corpus Christi Catholic Church, 6001 Bob Billings Parkway.
But Mulvany doesn't even pause when going into the changes the church has seen — changes in the number of folks looking for aid.
"I think where we notice it is the fact that more services are needed now for the people that we help — people that come to us to help with food and gas and utilities and rent," Mulvany said. "And so for us to keep up with that, that becomes the challenge."
Mulvany's observations are echoed across the Lawrence faith community. Religious leaders say people are still steadily giving, despite a study from the Barna Group that found that 20 percent of households had decreased their giving to faith groups in the final months of last year.
The Rev. Kent Winters-Hazelton of First Presbyterian Church, 2415 Clinton Parkway, said that in the first two months of 2009, his church was actually $19,000 ahead of where it was last year. Meanwhile downtown, the Rev. Peter Luckey at Plymouth Congregational Church, 925 Vt., said his church's numbers haven't seen any change from last year.
"I think it's going to be tough. I'm not a Pollyanna about any of this," Luckey said. "I do think that people recognize that when times are tough, they try not to make their contribution to their church be the first thing that gets whacked. They really try to recognize that maybe this is a time where the work of the church is going to be more important than ever, and they're willing to support it. I think there are no guarantees out there, but so far, so good."
However, he said that churches, like private citizens and businesses, have seen their expenses rise as the economy lags.
"I think every church struggles. The expenses keep going up — health insurance for the staff, the costs of the building, the fuel costs, electricity costs — all those costs keep going up and up, and there's nothing you can do about it," he said. "We didn't get any salary raises this year from last year, and we want to give raises. It's just tough. We're trying to be conservative."
Donations and aid
Where churches aren't staying conservative is in trying to meet growing need. At the Trinity Interfaith Food Pantry, 1027 Vt., five churches — Trinity Episcopal, St. Margaret's Episcopal, St. John the Evangelist Catholic, Trinity Lutheran and First United Methodist — are all working to keep hundreds from being hungry, said Barry Molineux, volunteer coordinator.
"Especially through December of 2008, we saw a considerable increase of donations of food from our churches that are part of our interfaith pantry," Molineux said."
Those churches helped buy about $4,000 worth of groceries for January — helping to serve a record 755 patrons that month. That was a jump of nearly 100 people from the month before and included 37 people who had never before used the pantry. Molineux said he expects the need to continue to grow and his averages to change.
"I think we are expecting the numbers to be strong," he said. "Seven hundred and fifty-five was a large number. ... I would say that on the average we probably serve is between 450 to 550 people per month."
Mulvany believes that the numbers of people seeking help from churches in all types of needs — including food, clothing, shelter and help with bills — will continue to grow as the pain of the recession sweeps across the Midwest.
"What hits the rest of country sometimes has a lag effect in hitting the Midwest," he said. "And I think when that catches up in spring and early summer, and you know people can only keep the house on the market for so long and try to keep those bills going ...
"I think we're seeing an increase in people not looking at their wages increasing and/or a decrease in wages and/or a loss of job. And that just means that there's a bigger gap that we have to try to help people make up."
The Rev. James Bailey of Southside Church of Christ, 1105 W. 25th St., believes that parishioners will continue to assist churches help those in need.
"I think history will prove that if (or) when the economic situation gets to a certain point people will see religious contributions as part of their relationship with God and God as the source of help," Bailey said. "While there are all sorts of problems with that thinking, we humans still seem to take God more seriously when we are in some form of pain."
Copyright 2017 The Lawrence Journal-World. All rights reserved. This material may not be published, broadcast, rewritten or redistributed. We strive to uphold our values for every story published.