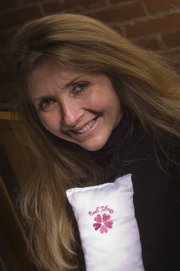 Sleeping was difficult for Tonya Turner of Richmond. That's because her breasts touched when she slept on her side.
"I hate to touch, so I would shove my shirt in between or a blanket or something, but it would fall out in the night," she says. "When I would wake up, I would be touching again."
Two years ago, she made a tubular-shaped pillow and it worked. She says it stayed in place throughout the night.
"It was kind of a joke around our house," says Turner, 45, a wife and mother of three children, ages 23, 21 and 19. "It was called different things. It was called a boob pillow and stuff like that in the beginning. Someone called it a Boob Tube, and that's what kind of stuck."
She decided to make more Boob Tubes — which are lightweight and made of a cotton and polyester — to share with friends and family. To her surprise, the feedback was positive.
"I thought I was the only person who had that," Turner says.
She also discovered there are more uses for a Boob Tube than originally thought.
Some women place them under their breasts to help prevent or clear up rashes or to simply keep the area dry. New mothers like to use them when breastfeeding. Some women who are going through reconstructive surgery use them for comfort during the healing process. One lady decided to put Vicks Vapor Rub on the pillow and use it during a cold. Another person is using it as a wrist rest while working on the computer.
After giving away the product and hearing such success stories, Turner and her husband, Randy Turner, decided to launch a business called 5 Hearts LLC and obtain a patent. The official name is Boob Tube Breast Rest. The product, which is manufactured in Paola, comes in 10 sizes, and the prices range from $6.99 to $16.99.
A portion of the proceeds benefits the Susan G. Komen Breast Cancer Foundation and the Multiple Sclerosis Foundation. Tonya was diagnosed with multiple sclerosis 20 years ago.
The Turners began marketing the product this month and have sold about 25 so far. They are targeting nursing homes, hospitals and cancer centers.
Stephanie Dangerfield, of Humboldt, is a mammographer at Anderson County Hospital in Garnett. She believes the Boob Tubes could be most beneficial for elderly patients because they often come in for a test and have rashes under their breasts or their skin is chafed.
"I definitely could see where it would help them," she says.
Dangerfield said obviously larger-breasted women would benefit more from the product. But, she added that different people are going to have different uses for it.
She bought a couple for herself because she often gets sweaty at work. She tucks them underneath her underwire bra to help keep her dry.
"I told the girls that I feel like I have cleavage now," she says, laughing. "So, maybe it will be two good things — I am not sure."
Copyright 2018 The Lawrence Journal-World. All rights reserved. This material may not be published, broadcast, rewritten or redistributed. We strive to uphold our values for every story published.