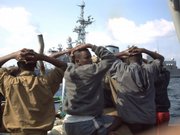 Nairobi, Kenya — The scrawny teenage pirate stormed the Maersk Alabama hoping for a share of a $3 million ransom. He was attacked by its sailors, stabbed in the hand and tied up, and later arrested by the U.S. Navy.
The wound probably saved the life of Abduhl Wal-i-Musi, who was taken aboard the USS Bainbridge for medical treatment before snipers killed his three comrades holding American skipper Richard Phillips hostage in a lifeboat.
Now Wal-i-Musi awaits a flight to the United States for trial — a rare instance of a piracy case advancing through the justice system.
In fact, most pirates plucked from the seas by warships of different countries are simply set free because of the many pitfalls along the path to prosecution.
"Prosecuting detained pirates — that is simply not our business," said Cmdr. Achim Winkler of a European Union flotilla that has nine warships and three maritime patrol planes guarding shipping lanes in the Gulf of Aden.
As the world grapples with the scourge of piracy in the busy waters off the Horn of Africa, the United States and other countries are calling for the bandits to be held accountable. Some even are considering a special tribunal.
A Kenya-based diplomat of another country that patrols those waters says putting pirates on trial is "still a lot of hassle." Pirate boats are often destroyed to prevent the pirates from getting back to sea, but unless they're caught in the act his navy's policy is to set the marauders free.
"While nobody would advocate the ancient naval tradition of just making them walk the gangplank, equipment like GPSes, weapons (and) ladders are often just tossed overboard and the pirates let go," said the diplomat, who asked that his name not be used because he is not authorized to speak to reporters.
What happens to captured pirates often depends on the nationalities of their victims and the navy that detained them. French soldiers take pirates who have attacked French citizens to Paris; pirates who have attacked other nations are hauled to Kenya, such as the 11 seized when the French navy found them stalking a Lebanese-owned ship this week. India took 24 suspects to Yemen, since half were from there.
The Dutch took five suspects to Rotterdam, where they probably will be tried next month under a 17th century law against "sea robbery" in the attack of the Dutch Antilles-flagged ship Samanyulo in January.
The crew fired a flare that set the pirates' speedboat on fire. They jumped into the sea, and the Danish navy picked them up and sank what was left of the boat. After agreeing to take the case, Dutch investigators interviewed sailors on the freighter to make the case against the pirates.
Among the difficulties facing prosecutors is assembling witnesses scattered across the globe and finding translators in various languages. Other countries are wary of hauling in pirates for trial for fear of being saddled with them after they serve their prison terms.
Some European nations dump detained pirates back into lawless Somalia, said Pottengal Mukundan, director of the Commercial Crimes Services of the International Maritime Bureau.
"I think EU countries are concerned that if the pirates are convicted and spend time in prison, when they finish their sentence, they may not be able to send them back to Somalia," Mukundan said.
Kenya is the most popular destination for suspects. The East African nation bordering Somalia has agreements with the U.S., EU and Britain to prosecute Somali pirates, leading to a slew of court cases in the southern port of Mombasa.
A U.S. official said Wal-i-Musi will face trial in New York, where the FBI has a history of handling African cases involving major crimes against Americans, including the 1998 al-Qaida bombings of U.S. embassies in Kenya and Tanzania. The official spoke on condition of anonymity because he is not authorized to talk about an ongoing investigation.
Prosecutors have not yet said what charges Wal-i-Musi will face. The United States has old piracy laws on its books and new terrorism statutes that could be used, said attorney Matthew Thomas, who trains the U.S. Navy in commercial maritime law.
Michael Passman, a Chicago lawyer who has written about piracy law, said it has been more than 100 years since the United States used the statutes, and prosecutors could use other federal laws against crimes at sea.
But, he said, "this is a case where the traditional piracy statute fits so well what has been alleged against this individual."
He said the United States also might want to set a precedent to show pirates they face stern penalties and to serve as an example to other nations.
Copyright 2018 The Associated Press. All rights reserved. This material may not be published, broadcast, rewritten or redistributed. We strive to uphold our values for every story published.