Past Event
Hallmark Hall of Fame Production
When: Sunday, April 19, 2009, 10 a.m.
Where: Sunflower Broadband channels 5, 13 and 201 HD.
-->
-->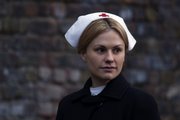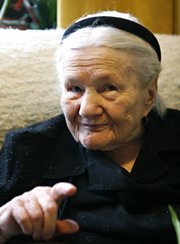 Sunday night, television viewers will be introduced to the greatest hero of the Holocaust they have never met: Irena Sendler.
The Polish social worker, who is recognized for saving thousands of Jewish children from the Nazis, will be featured in "The Courageous Heart of Irena Sendler" in a Hallmark Hall of Fame production at 8 p.m. Sunday on CBS.
Her name may not be as famous as Schindler, but it's not for a lack of trying by some very determined Kansans.
Back in 1999, a group of students from Uniontown High School used a teacher's short clipping on Irena Sendler as the basis for a National History Day project. That project became the play "Life in a Jar," which has been performed hundreds of times, including at Central Junior High School in 2002.
Now, Hallmark Hall of Fame has picked up Sendler's story and made it into a full-length film featuring two Oscar winners: Anna Paquin as Irena and Marcia Gay-Harden as Irena's mother, Janina.
Despite the Hollywood connections, ground zero for everything Irena Sendler is still the area in and around Uniontown, two hours south of Lawrence. The world premiere of the movie was in nearby Fort Scott on Wednesday night.
Hosting the event was Norm Conard, the high school educator who first introduced his students to the name Irena Sendler. Conard is now the director of Fort Scott's Lowell Milken Center, an international organization dedicated to projects that teach respect and understanding like that of the Irena Sendler project.
Sunday's movie is just another step in getting Sendler and her story out there, says Megan Stewart Felt, who was one of the students first working on the project.
"It's pretty amazing. You know, we never expected this to culminate in such a way," says Felt, 23, who is the program director at the Lowell Milken Center. "And it's so exciting for us to see Irena's story being shown to so many. That's always been our goal and our dream: To make her story known."
'Life in a Jar'
A Catholic social worker in Warsaw, Poland, Sendler saw first-hand the life in the city's ghetto, where Nazis allowed Jewish citizens to live confined, walled off, sick and hungry. Realizing that the families would soon be sent to their death at work camps the Nazis were building in Poland, Sendler tried to persuade Jewish families in the ghetto to allow her to smuggle their children out.
After bringing children out through means such as an ambulance, underground passage or under the Nazis noses through an old courthouse, she would help them assimilate into the dangerous outside world: perfecting their Polish, teaching them the sign of the cross and getting them forged baptismal papers. Then, once they were ready, she would help them be adopted by Polish Catholic families or stay in convents and Catholic orphanages. Sendler would record each child's real name on pieces of paper she put in a jar with the hope that after the war was over she could find the children and give them their real names and the chance of being reunited with their parents.
Sendler, along with her small network, is credited with saving 2,500 children in three years before she was captured and tortured by the Nazis on Oct. 20, 1943. She survived the torture, escaped execution and went into hiding until the war ended. In no small part thanks to the Life in a Jar project and the publicity it has received, she was nominated for the Nobel Peace Prize in 2007, losing out to Al Gore. Sendler lived to the age of 98, dying May 12, 2008.
Irena in real life
During her life, Sendler was able to meet with the children from Kansas who had made her their personal mission. MaeganEaster of Lawrence, who joined the group after meeting Stewart Felt at Pittsburg State, was able to meet Sendler on the project's third trip to Poland.
"It was amazing, just the fact that it was real at that point in time," Easter says of meeting Sendler in person. "They've always said she wasn't a healthy woman, originally, early on after everything that happened to her, but the fact that she was able to live that long ... for (the students) to meet her and to be able to interact with her was pretty cool."
Sad that he was never able to meet her is Lou Frydman. The Lawrence resident grew up in and survived the very ghetto in which Irena was working. As an adult, Frydman has extensively studied the Poland of his childhood, but even he was stunned to learn about Sendler from "Life in a Jar." And now that he knows, he just can't understand why it has taken this long for the world to hear about her story.
"I was in the Warsaw ghetto, and I've been very involved in the Holocaust literature. I have never heard her name, or even the name of her organization, and it's bothered me ... why? And I think, how come this story never came out? How come nobody knew about it?" says Frydman, who helped sponsor the 2002 play at Central. "A group of Protestant girls in Fort Scott, who haven't met a Jew, to run with Irena Sendler. I was so happy that they ran with it, but I just don't understand it."
Copyright 2018 The Lawrence Journal-World. All rights reserved. This material may not be published, broadcast, rewritten or redistributed. We strive to uphold our values for every story published.