Photo Gallery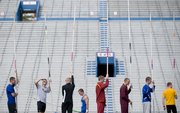 2009 Kansas Relays
2009 Kansas Relays
The thing about the distance medley relay is that nobody really knows how to run it.
That didn't stop the Lawrence High and Free State High track teams from making it one of the most successful events for the city Friday at the Kansas Relays.
Free State's girls took fifth place and the LHS boys took 10th in a race that neither team runs during the rest of the season. The distance medley features four runners running four different distances in a relay format.
Every leg but the first is a length that can be run during other portions of any track meet. But the first leg is 1,200 meters, which equates to about three laps.
"It's hard to run three laps," LHS coach Jack Hood said. "A lot of kids know how to run two laps, and a lot of kids know how to run four laps. But running three laps is tough."
For the Firebirds, that responsibility fell into the lap of sophomore Hayley Francis, who was competing in her first race at the Kansas Relays. Talk about adrenaline.
With her teammates watching and wondering, Francis ran a torrid first leg, finishing more than 15 seconds ahead of where her coaches anticipated she would.
"We were hoping that her split time would be somewhere around 4:15," Free State coach Steve Heffernan said. "But she ran a 3:59, and that just set up the rest of the relay to succeed."
Chloe Porter (400 meters) followed Francis with another solid effort, and Libby Wiebe (800) did the same. That set up distance specialist Kyra Kilwein (1,600) to bring it home.
Despite battling an illness that kept her up for much of the night before, Kilwein ran a typically strong anchor leg and helped the Firebirds secure fifth in 13:08.94.
"Kyra had a rough two-mile," said Heffernan of the senior's 17th-place finish in one of her strongest events. "But she really came through in the distance medley. Kyra is a very solid, competitive athlete, and that's exactly what you expect her to do."
After the race, Francis said the team was unsure of what it had accomplished.
"We didn't even know if we had medaled or really what we had done," she said. "But then we looked at our time and just kind of went, 'Dang, I guess we did pretty good.' But that race was a lot of fun. It was different."
The Free State boys (Harrison Scheib, Chase Hoag, Nash Riggins, Logan Sloan) also had a good day in the event, finishing 12th (11:01.89).
The Lions' 10th-place showing (10:59.63) in the boys distance medley did not yield a medal, but the performance turned in by Calvin Morgan, Trent Edwards, Ben Wilson and Roy Wedge impressed their coach just the same.
"Our boys distance medley ran their tails off," Hood said. "Tenth doesn't sound great, but they all ran PRs (personal records), and they were all six to eight seconds faster than we thought they would be."
The lone medal of the day for the Lions came from senior javelin thrower Chris Smith, who finished sixth with a top throw of 177 feet, 7 inches.
Hood credited Smith's determination along with the work of LHS assistant coach (and former KU standout and Olympian) Scott Russell — who won the men's event with a throw of 246 feet, 4 inches — for the memorable performance.
"Chris missed a PR by two inches," Hood said. "But he's so far ahead of where we thought he would be at this time. Last year, his PR was at regionals, and he's already on it. It was a great day for Chris."
Other highlights from Friday: shot put competitors Chebon Dawes (LHS, 48 feet, 10 inches) and Colter Scott (FSHS, 47 feet, 8 inches) both narrowly missed qualifying for the finals in their event; and the Free State girls 4x1-mile relay (Libby Wiebe, Haley Harrington, Rachael Schaeffer, Amy Meyers) finished 11th in 23:40.86.
Copyright 2018 The Lawrence Journal-World. All rights reserved. This material may not be published, broadcast, rewritten or redistributed. We strive to uphold our values for every story published.