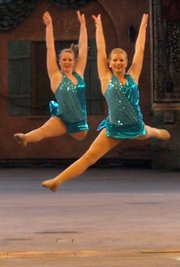 Turns out that Disney World's "Happiest Place on Earth" tag is still applicable after a two-day bus ride with 130 of your closest friends.
In March, the Lawrence High School band and pom squad took a trip to Festival Disney, which spanned two days and thousands of miles. That's enough to make a grouch out of anyone, but after winning awards at the trip's final destination, a few hours crammed onto three charter buses could easily be forgotten.
The LHS band, competing in four groups March 13 and 14, did well with the symphonic band getting a superior rating — the best available — and taking third overall. The jazz ensemble won first place and took a superior rating, while pianist Addison Frei won outstanding jazz soloist. The concert band took an excellent rating — the next highest rating. Meanwhile, the pom squad, in its first year competing with the band, took a superior rating and won its division as well.
The Free State High School choir, which also attended the international competition in Orlando, Fla., earned straight superiors and silver and bronze trophies at the event.
"I didn't exactly know what to expect ... but I didn't expect to win first," says Meghan McBride, LHS junior pom squad member.
Also exciting were the two days the groups spent in the park before getting down to the business of competing. Visiting Disney World was a perfect birthday outing for Free State senior choir member Dianna Torgerson, who was set to turn 18 just days after the return home.
"Getting pictures with the characters is not as easy as they make it seem on the commercials," she says.
Much easier than one would expect? Getting all the kids to Florida. Both schools ran fundraisers to earn money for the trips, which happen on a rotating schedule so that each school's band, choir and orchestra can go on a big trip once every three years.
Free State choir director Hilary Morton says that when she compared the numbers, because gas prices fell, the 60 or so kids who flew with her to the competition were able to pay such a good price for the trip that it was only about $50 more per student than when the school took the same trip 10 years ago — and they got to stay an extra day.
Mike Jones, LHS's band director, jokes that the bus trip was a bit "brutal" on the way back because it was without stops, but Courtney Griffin, one of Jones' seniors who had been looking forward to the trip for years, says that it was all worth it.
"It gave us time to see everything and shop in malls, and it was good kind of bonding time," Griffin says. "I kind of enjoyed the extra time with some of the people. Not to say that I wouldn't have rather it had been (an eight-hour trip)."
— Staff writer Sarah Henning can be reached at 832-7187.
Copyright 2018 The Lawrence Journal-World. All rights reserved. This material may not be published, broadcast, rewritten or redistributed. We strive to uphold our values for every story published.