On the street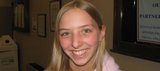 Books about vampires. They are amazing.
McClatchy Newspapers
Celebrate National Poetry Month in April with a crackerjack stack of new children's poetry titles.
• "The Bill Martin Jr. Big Book of Poetry" is an attractive volume created by the author of "Brown Bear, Brown Bear, What do You See?". It was published after Martin's death in 2004 with Michael Sampson, a frequent collaborator of Martin's.
Organized by themes, such as "Animals" and "Nonsense," the book includes 200 poems, some classic and beloved, others fresh and surprising. Authors include Robert Frost, Rachel Field, Robert Louis Stevenson, Nikki Giovanni, Langston Hughes, John Ciardi, Jack Prelutsky — and Mother Goose.
• "A Whiff of Pine, A Hint of Skunk: A Forest of Poems," by Deborah Ruddell, meanders through the woods offering whimsical and true obser-vations on the creatures found there.
A beaver is a "Bucktooth Cleaver Tree Retriever." A wild turkey offers a disdainful commentary on the hand-traced turkey portraits that proliferate in classrooms around Thanksgiving: "My head is quite distinguished and it's nothing like your thumb."
• "Orangutan Tongs: Poems to Tangle Your Tongue," by Jon Agee, must be read aloud and is bound to produce hilarity. It's a marvelous new collection of tongue-twisting verse by the marvelous Agee.
Try this bit: "There are people who use paper
"That is colored only purple
"They are in the Purple-Paper People Club."
• "The Underwear Salesman: And Other Jobs for Better or Verse," poems by J. Patrick Lewis, is a playful romp through a wide variety of usual and not-so-usual occupations, including plumber, exterminator, sunken-treasure hunter and ice sculptor.
• "Incredible Inventions," selected by Lee Bennett Hopkins, is a lively collection of poems by various authors that celebrates creativity. Hopkins has chosen poems about offbeat inventions that will interest kids, including Fig Newtons, Band-Aids, crayons and basketballs.
The collection contains a variety of styles, from haikus to shape poems. Notes at the end offer more information about each invention. Colorful illustrations are by Julia Sarcone-Roch.
Copyright 2018 The Lawrence Journal-World. All rights reserved. This material may not be published, broadcast, rewritten or redistributed. We strive to uphold our values for every story published.