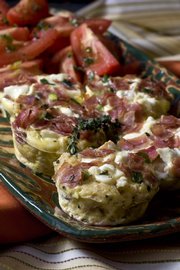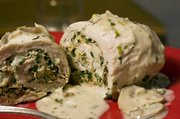 Banish thoughts of potato sticks, limp green beans and cream-of-something soups. Casseroles finally are redeeming themselves.
"In the '70s and '80s, casseroles became synonymous with El Caminos, cheap beer and church basements," says Emily Farris, author of the recent cookbook, "Casserole Crazy."
That's changing. A new generation of Americans focused on better and more exotic ingredients is giving new life to casseroles.
Even upscale food magazines such as Gourmet and Martha Stewart Living are making space for recipes, recently offering updated versions of shepherd's pie with stewed root vegetables and potato casserole.
"If you make them with great ingredients, they are great and not dowdy at all," says Pamela Mitchell, executive food editor at Every Day with Rachael Ray magazine, which has run more than a dozen casserole recipes during the past year.
Here are some new casserole ideas:
CRAB-STUFFED TURKEY BREASTS
4 tablespoons butter, divided
2 pounds turkey breast tenderloins
1/2 cup sliced scallions (white and green parts)
1/4 pound thinly sliced mushrooms
3 tablespoons all-purpose flour
2 teaspoons dried thyme, divided
1/2 cup chicken broth
1/2 cup light cream or half-and-half
1/2 cup dry white wine
Salt and ground black pepper, to taste
3/4 pound fresh crabmeat (or two 6-ounce packages frozen crabmeat, thawed and drained)
1/2 cup chopped fresh parsley
1 cup shredded Swiss cheese
Heat the oven to 350 degrees. Use 2 teaspoons of the butter to coat the bottom and sides of a shallow 3-quart casserole dish.
Wash the turkey and pat dry. Cut each piece lengthwise through the center to create 2 thinner halves. Place each piece between sheets of plastic wrap and pound with the flat side of a meat mallet until thin and about tripled in size.
In a medium skillet over medium, melt the remaining butter. Add the scallions and mushrooms and saute for 5 minutes, or until soft. Stir in the flour and 1 teaspoon of the thyme.
Whisk in the broth, cream and wine, then bring to a boil, whisking constantly. Cook until thickened, then season with salt and pepper. Remove from the heat.
In a small bowl, combine 1/4 cup of the sauce, the crabmeat, parsley and remaining 1 teaspoon of thyme. Divide the mixture between the turkey breast slices, spreading it evenly over each.
Roll each into a tight bundle and place, seam down, in the prepared casserole dish.
Spoon the remaining sauce over the turkey bundles and sprinkle with the cheese. (At this point the dish can be covered and refrigerated for up to 1 day. If so, add 10 minutes to the baking time.)
Cover the casserole with foil coated with cooking spray. Bake for 30 minutes, or until the turkey is cooked through. Serves 6.
— Recipe from Beatrice Ojakangas' "The Best Casserole Cookbook Ever," Chronicle Books, 2008
MINI HAM AND EGG CASSEROLES
8-inch baguette, cut into small cubes
4 ounces cream cheese, cut crosswise into 12 slices
1 teaspoon extra-virgin olive oil, plus more for drizzling
1/4 pound thinly sliced ham, chopped (about 1 cup)
4 scallions, white and green portions, thinly sliced
Ground black pepper
1 1/2 cups fat-free half-and-half (regular also can be used)
6 large eggs
1 teaspoon fresh thyme leaves
1/2 pound plum tomatoes, cut into wedges
Salt
Heat the oven to 350 degrees. Lightly coat a 12-cup muffin pan with cooking spray.
Fill each cup of the muffin tin halfway with bread cubes. Top each with 1 slice of cream cheese. Set aside.
In a small saucepan over medium, heat the olive oil. Add the ham, scallion whites and a pinch of pepper. Saute until the scallions are tender, about 5 minutes. Stir in the half-and-half and bring just to a simmer, then remove from the heat.
In a medium bowl, whisk together the eggs and thyme, then whisk in the warm half-and-half mixture. Pour the egg mixture over the bread in each muffin cup, then bake until puffed and golden around the edges, about 15 minutes.
Let cool for 5 minutes, then run a knife around the edges and invert onto a cooling rack.
Drizzle the tomato slices with olive oil, top with the scallion greens and season with salt and pepper. Serve with the mini-casseroles. Serves 4.
— Recipe adapted from the April 2008 issue of Every Day with Rachel Ray magazine
ENCHILADA CASSEROLE
1 pound lean ground beef
1 large yellow onion, chopped
2 cups salsa
15-ounce can black beans, rinsed and drained
1/4 cup reduced-fat Italian salad dressing
2 tablespoons reduced-sodium taco seasoning
1/4 teaspoon ground cumin
Six 8-inch flour tortillas
3/4 cup reduced-fat sour cream
1 cup (4 ounces) shredded reduced-fat Mexican cheese blend
1 cup shredded lettuce
1 medium tomato, chopped
1/4 cup minced fresh cilantro
Heat the oven to 400 F. Coat a 3-quart baking dish with cooking spray.
In a large skillet over medium, saute the beef and onion until the meat is no longer pink. Drain the meat, then stir in the salsa, beans, salad dressing, taco seasoning and cumin.
Arrange 3 tortillas in the prepared baking dish. Spread half of the meat mixture over the tortillas, then top with half each of the sour cream and cheese. Top with the remaining tortillas, then repeat the layering with remaining meat, sour cream and cheese.
Cover and bake for 25 minutes. Uncover and bake for another 5 to 10 minutes, or until heated through. Let stand for 5 minutes before topping with lettuce, tomato and cilantro. Serves 8.
Copyright 2018 The Associated Press. All rights reserved. This material may not be published, broadcast, rewritten or redistributed. We strive to uphold our values for every story published.