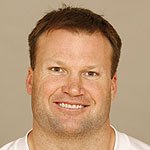 Free agent linebacker Zach Thomas agreed to a one-year contract with the Kansas City Chiefs on Sunday, according to ESPN.com.
The deal for the middle linebacker and seven-time Pro Bowler was reportedly worth $2 million.
Thomas, 36, began the first 12 years of his pro career in Miami, where he was drafted in 1996 out of Texas Tech. Injuries limited Thomas to only five games in 2007.
He spent 2008 with the Dallas Cowboys, started 14 of 16 games and made 64 solo tackles (94 total). He had a career-high 120 solo tackles in his first season with Miami in 1996.
The Chiefs now have a linebacking corps of Thomas, four-year veteran Derrick Johnson and Mike Vrabel. The Chiefs traded a second-round draft pick to New England in February in exchange for quarterback Matt Cassel and Vrabel.
The ESPN report said the acquisition of Thomas could raise questions on what the Chiefs will do with the third overall pick in the upcoming NFL Draft. Many have predicted Kansas City should select coveted Wake Forest linebacker Aaron Curry. However, in addition to the three projected starters, the Chiefs have a roster that includes linebackers Monty Beisel, Corey Mays and Demorrio Williams.
Copyright 2018 The Lawrence Journal-World. All rights reserved. This material may not be published, broadcast, rewritten or redistributed. We strive to uphold our values for every story published.