Photo Gallery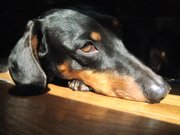 Pet Post: Spring 2009
What should you do if your household includes a cat or two and you are having house guests who don't seem to share your love of felines?
First of all, tell guests in advance that you do own cats, in case they are allergic, so they can bring their allergy medications. Then, gently suggest to your guests that if they don't want cats curling up in their suitcases, sniffing their bedroom slippers or napping on their beds, they should keep the door to the guest room closed at all times. Stock your guest room bath with some lint brushes.
Hopefully, your house guests will be respectful of your pets, who are family members and residents of your home and deserve to be treated with kindness.
Copyright 2018 The Lawrence Journal-World. All rights reserved. This material may not be published, broadcast, rewritten or redistributed. We strive to uphold our values for every story published.