Photo Gallery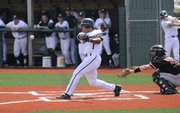 Lawrence High baseball vs. Free State
Lawrence High and Free State matched up on the diamond Saturday, April 11.
For years, Free State High's baseball team has had its pitchers operate with one motto in mind: The other team hits to your pitching, you don't pitch to their hitting.
Saturday at FSHS, Firebirds junior right-hander Ryan Scott executed that game plan to perfection, pitching six strong innings in a 5-2 victory against Lawrence High.
"You have to give the Scott kid credit," LHS coach Brad Stoll said. "He kept us in check all day and was really effective. Our guys just could not get any rhythm."
Not bad for a guy who did not actually know he would get the start until a few hours before game time.
"I wasn't even sure if I was going to pitch," Scott said. "My arm had been sore all week. But once I started throwing before the game, I knew it was OK, and I knew I could pitch."
But did he know that he would last into the seventh inning, strike out seven Lions and give up just two runs on four hits?
"Not at all," he said.
Because of the upcoming River City Baseball Festival, Free State coach Mike Hill had intended to let Scott throw two, maybe three, innings. But just as he has done all season, Scott pitched fast, worked from ahead in the count and faced very few batters.
"We genuinely went into today thinking we'd let him go a couple of innings and then work some other arms in there," Hill said. "But Ryan was outstanding. The key again was that his pitch count was extraordinarily low."
Before giving way to sophomore Cody Kukuk in the top of the seventh inning, Scott threw just 60 pitches. A big reason for the low count was the defense played behind him, particularly by shortstop Colin Toalson.
Time and again, Scott coerced the LHS batters to roll ground balls Toalson's way. Each time the tall and talented shortstop made a fundamentally sound play to help keep the Firebirds in front.
"We've got a pretty good legacy of shortstops here, some big-time baseball players," Hill said. "And I think Colin feels a little of the responsibility to live up to that. He's got great range, a very quick release, and he's been outstanding for us."
Free State (7-0) broke open a nice pitching duel between Scott and LHS starter Andy Urban with a four-run fourth inning. The Firebirds got RBIs from Scott, Toalson and Camren Torneden in the inning and capitalized on two singles, two hit batters and a walk to build their lead.
"That's why they won the game today," Stoll said. "They took advantage of our mistakes and made us pay for them."
Trailing 5-0 heading into the top of the sixth, the Lions (4-3) attempted to stage a rally. Senior Tyler Bailey led off the inning with a home run to left field that immediately injected life into the struggling LHS offense. Jack Bush then smacked a single, and Aaron Rea reached on an error, putting the Lions in business with runners on first and second and no outs.
That's when Scott and Toalson buckeled down. Scott struck out LHS's Devin Forio for the first out of the inning and then got Clint Pinnick to roll into a double play to end the inning.
But not before a little excitement.
Toalson's throw pulled first baseman Kukuk off the bag, but after leaping to make the catch, Kukuk went for the tag in one motion. The home-plate umpire ruled that Kukuk connected and called Pinnick out. Stoll saw it otherwise and immediately rushed home to argue the call. After a heated exchange in which Stoll continually told the umpire that he missed the call, the LHS coach was tossed from the game.
An inning later, LHS junior Albert Minnis left the game after injuring his right hand while sliding into third base after a leadoff triple. The extent of Minnis' injury was not immediately known.
"This one hurts," Stoll said. "And the Easter egg hunt on Sunday might not be as much fun for these kids after this. But we've got 14 guaranteed games left, and we'll come back from this."
Hill, who said he continues to marvel at the way his young ballclub plays with such composure, said he was extremely proud of his team for knocking off a very talented LHS group.
"This was certainly not the final exam," Hill said. "But we passed this test with flying colors."
Copyright 2017 The Lawrence Journal-World. All rights reserved. This material may not be published, broadcast, rewritten or redistributed. We strive to uphold our values for every story published.