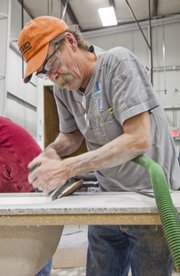 More signs have emerged that Lawrence is on a long losing streak when it comes to jobs, and that local job losses have been happening faster than in many other parts of the state.
The latest numbers from the federal Bureau of Labor Statistics show that Douglas County has suffered through 10 straight months of job losses — dating from December 2007 to September 2008, the latest month for which statistics are available.
"The numbers show that we need to be thankful for every job we have right now," said City Commissioner Rob Chestnut, who is scheduled to be selected by fellow commissioners on Tuesday to serve as mayor. "We need to support our local businesses any way we can."
According to the numbers — which unlike unemployment numbers, measure only jobs that are actually within the county — Lawrence's job situation grew bleaker in the third quarter of 2008. From July through September, Douglas County lost an average of 1,600 jobs each month, when compared to the same month in 2007. Percentage-wise, the county saw its job totals drop by 3.4 percent per month during the quarter.
Another way to look at it is this: in August 2001, there were 47,051 jobs in Douglas County. Seven years later in August 2008 — despite years of population gains — there were 1,357 fewer jobs in the county.
The latest numbers also show a continuation of a trend that has emerged this year. Douglas County and Lawrence are losing jobs at a rate greater than the state as a whole and greater than surrounding counties. For the third quarter of 2008, the state's job totals essentially held steady — posting an increase of less than one-tenth of a percent — while Douglas County lost jobs at a 3.4 percent rate.
Economic development leaders weren't certain why Lawrence's rate of job loss was greater than many other Kansas communities. Beth Johnson, Lawrence Chamber of Commerce vice president of economic development, said it likely was because Lawrence's economy is more dependent upon construction-related jobs.
Johnson said she would use the new numbers to urge community leaders to agree upon an economic development strategy that would diversify Lawrence's economy.
"One of the things that we can do as a community is decide what we want," Johnson said. "What type of businesses do we want, what type of jobs do we want?"
Johnson said the recent City Commission campaign featured a lot of talk about economic development strategies, but she thinks more details need to be developed.
"The big mantra during the election was helping small businesses," Johnson said. "We need to have a real heart to heart with small businesses and hear what we can do to help them.
"But I can tell you a lot of them say that what would help them most is a new business with about 500 employees coming to town because that will create new business for them."
Chestnut said one of his first goals as mayor will be to hear the ideas that new commissioners Aron Cromwell and Lance Johnson have on the subject. Both talked about job creation extensively on the campaign trail, but both had differing opinions on how to best grow jobs.
Johnson touted the need for an attitude change at City Hall that makes it clear that the city is welcoming to business. Cromwell said the city needs to shift its economic development efforts to focus more on growing small businesses, especially in the tourism and retirement industries.
"We definitely need to have a conversation about what our strengths are as a community, and what differentiates us from other communities so we can better sell ourselves," Chestnut said.
Copyright 2018 The Lawrence Journal-World. All rights reserved. This material may not be published, broadcast, rewritten or redistributed. We strive to uphold our values for every story published.