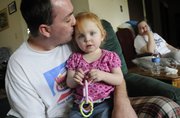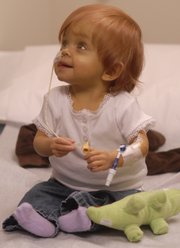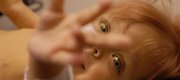 Three Lawrence families share one common bond they encourage others to be organ and tissue donors. This 3-part series explores the life-changing nature of organ donations.
One year ago, Addison Whitenight was 18 months old and fighting for her life.
The Lawrence girl was diagnosed with bilary atresia at the age of 6 weeks. She had a liver disease that caused severe jaundice. She was on a feeding tube 17 hours a day and she had rickets or a softening of the bones. A tumble off the couch caused her to break her left leg and arm. She was in a red-and-blue cast that covered most of her body.
Bathing and diapering her became a real chore with the cast, and her parents, Shawna Davis and Jeffrey Whitenight, already were exhausted.
It was tough to watch their little girl suffer, but they remained hopeful that Addison would receive a life-saving organ transplant.
In October, their prayers were answered. Addison received a new liver at Children's Mercy Hospital in Kansas City, Mo.
Today, Addison is taking her first few steps and no longer requires a feeding tube. She has gone from 14 medications to four.
"She's a normal 2-year-old," Shawna said. "She has an attitude and gets into trouble."
Addison is talkative and likes to give her older brother, Cameron, 5, a hard time. Her favorite foods are macaroni and cheese and eggs. She likes to sing and wiggle to the music of country singer Taylor Swift.
Now, they have to work on potty training and getting rid of the bottle, but mom is in no hurry. She thinks Addison has been through enough.
"I watched her suffer in and out of the hospital for two years," Shawna said. "I have to learn not to live liver anymore. So, it's hard to accept that things are going good."
Copyright 2018 The Lawrence Journal-World. All rights reserved. This material may not be published, broadcast, rewritten or redistributed. We strive to uphold our values for every story published.