Photo Gallery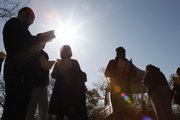 Birchas Hachama services in South Park
The sun was out in full force Wednesday morning, with not a cloud in sight.
This was especially important for those attending a service in South Park led by Rabbi Zalman Tiechtel.
"Jewish tradition would believe that once in 28 years, the sun is found in its cycle in the exact same spot that it was the moment it was created … So at least once in 28 years we gather together to look up and say, 'God, wow. Thank you for the warm. Thank you for the care. Thank you for providing us with all our needs.' So that's why we're celebrating today," Tiechtel said.
The service is called the Birchas Hachama in Hebrew. Those taking part in the ceremony sang songs and recited psalms.
This Birchas Hachama was particularly special because Wednesday was the eve of Passover. Passover began at sundown Wednesday.
Tiechtel said there's an important lesson to be learned from the sun.
"There's something very unique about the sun, and that is that the sun gives. The sun doesn't take … And that's the difference about life: Are we going to be givers, or are we going to be takers?"
Copyright 2018 The Lawrence Journal-World. All rights reserved. This material may not be published, broadcast, rewritten or redistributed. We strive to uphold our values for every story published.