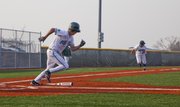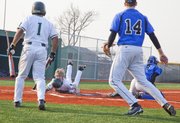 Last season, Free State High baseball coach Mike Hill admits his team could win games a lot of different ways. This is one of the luxuries when you have 11 seniors and a lineup stocked with explosive bats and a stable of pitchers talented enough to lead you to the No. 1 seed in the Class 6A state tournament: diversified domination.
This season, though? With a roster that has undergone a massive facelift and features a good number of players who are dabbling in the business of varsity baseball for the first time in their lives? Things are a tad different.
"I think we're going to have to hang our hat on our pitching and defense, particularly early on as we try to grow offensively," said Hill, following his team's 4-2 victory over visiting Olathe Northwest on Tuesday. "We realize that we're not going to bash our way to 12-10 victories on a consistent basis. A year ago, yeah, if we didn't beat you with the pitching and defense we'd likely out-hit you. ... But we've got a bunch of young kids that are trying to learn to hit at the varsity level."
And Tuesday's game represented a prime example of the Firebirds' new-look mindset.
Despite managing only five hits against the Ravens, Free State used a near-flawless defensive effort and a solid outing from pitcher Ryan Scott — who was used as a closer last season — to improve to 4-0 this spring.
Scott, coming off a victory over Blue Valley North on Friday, scattered six hits and gave up one run in five innings, and even without his best command, still managed to meet the team's goal of allowed runs.
"Before games, we talk about keeping it below three runs," said Scott. "And that's pretty much what we've been doing."
Since losing almost a dozen seniors to graduation, the Firebirds' makeup has shifted significantly entering the 2009 campaign. The biggest difference has come on the offensive end, where a good portion of the team's lineup is getting its first exposure to varsity pitching — the result being a severe drop in the kind of production that was considered normal a year ago.
As designated hitter Mike Lisher put it Tuesday, while describing the team's need for improvement offensively, "Five hits isn't going to win a lot of games for you."
At the same time, the hits the Firebirds have been able to muster this spring have come at all the right times.
Against the Ravens, for instance, Free State first baseman Cody Kukuk doubled with two on and one out in the bottom of the third inning to score both baserunners and give the Firebirds a 2-1 lead. An inning later, meanwhile, back-to-back RBI singles by Connor Stremel and Nick Hassig pushed the lead to 4-1, which would prove to be all Free State would need.
The Ravens put one more on the board in the sixth, but after Kukuk — in as a reliever — made things interesting by putting two runners on in the top of the seventh, he promptly struck out Olathe Northwest catcher Harrison Lambert to end the game and ensure the Firebirds their first league victory.
"So far, our pitching and defense has been real good," said Scott. "And that's two of the three keys out of baseball.
"Our hitting's going to come around, we've just got to hook it up."
Copyright 2018 The Lawrence Journal-World. All rights reserved. This material may not be published, broadcast, rewritten or redistributed. We strive to uphold our values for every story published.