On the street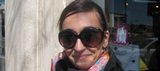 I teach in the south side of Chicago, so most of my students don't have health insurance.
There are 45.7 million Americans who are without health insurance, or at least that's what we thought.
That number represents how many people were without health insurance for the entire year of 2007.
Families USA, a national health care advocate for consumers, looked further into the issue and found that 86.7 million Americans under age 65 were uninsured at some point during 2007 and 2008, based on data from the Census Bureau and the Agency for Healthcare Research and Quality.
That's about one out of three people.
Ron Pollack, executive director of Families USA, announced the agency's findings during a teleconference Tuesday.
"That huge number of people without health insurance coverage in the United States is worse than an epidemic," Pollack said. "At this point, almost everyone in the country has had a family member, neighbor or friend who is uninsured and that's why meaningful health care reform can no longer be kept on the back burner."
In Kansas, 748,000 people were without insurance during that period — or 31.4 percent of the population. It is just below the national average of 33.1 percent. Texas had the highest uninsured population with 43.9 percent and Minnesota had the smallest at 24.1 percent.
The report did not include Massachusetts because its data is constantly changing because of recent health care reforms. The state requires every resident to have health insurance, but it offers subsidies for residents based on their income. The law, enacted in 2006, is credited with covering an additional 439,000 residents as of last year.
Pollack hopes such reform comes on the national level. He said two key things must happen to extend coverage and protect people from unaffordable premiums.
• Subsidies, based on income levels, need to be offered for people who can't afford the skyrocketing cost of premiums.
• Medicaid coverage needs to be expanded, so it's just not covering the poorest of the poor.
Copyright 2017 The Lawrence Journal-World. All rights reserved. This material may not be published, broadcast, rewritten or redistributed. We strive to uphold our values for every story published.