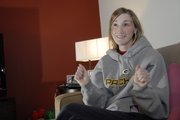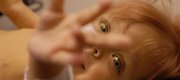 Three Lawrence families share one common bond they encourage others to be organ and tissue donors. This 3-part series explores the life-changing nature of organ donations.
She walks up two flights of stairs and to her cubicle on the second floor of the Golf Course Superintendents Association of America in west Lawrence.
On the way, Heidi Karn Barker, 25, is talking about her full-time job as a professional development coordinator. Heidi jokes about how she knows more about grass than she ever imagined she would.
Walking up those stairs would have taken considerably more effort before her double lung transplant just 15 months earlier.
"It would have been a couple of steps and rest for a few minutes and another couple of steps and rest," she said.
Heidi was diagnosed with cystic fibrosis at age 18 months. Medications, doctors and hospitals have been a part of her life since she can remember.
Before the transplant at Barnes Jewish Hospital in St. Louis, she had to quit working a part-time job at Kansas University. She was on oxygen 24 hours a day. The five-foot-seven Lawrence resident's weight hovered just above 100 pounds.
"My life has been pretty wonderful since transplant," she said. "And by wonderful, I guess I mean normal."
What can she do now that she couldn't do before the transplant?
"Many things," she said with a big smile. "So many things."
She doesn't have to be dropped off at the front door of a restaurant. She can climb the mountains of Colorado. She can get over in a cold in a few days instead of landing in the hospital.
She marked the one-year anniversary of her transplant on Jan. 4 with a CaringBridge journal entry. It says: "I've gained 50 pounds since the surgery. I can walk without losing my breath. I can sleep lying on my back, not leaning over five pillows stacked on one another in front of me. I can sing — loud. I can appreciate and realize how huge a difference this decision and gift from another family makes on my own life and on those lives around me."
About eight months after the transplant, she received a short letter from the donor's family. She learned that her donor was a young woman named Angie and that they shared some similarities. They both adopted cats at a shelter and they each have a sister. Angie has a brother named Brad and Heidi's husband's name is Brad.
"It was very emotional," Heidi said. "It was very special just to have someone to refer to."
Copyright 2018 The Lawrence Journal-World. All rights reserved. This material may not be published, broadcast, rewritten or redistributed. We strive to uphold our values for every story published.