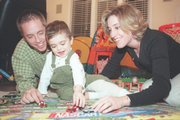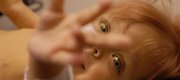 Three Lawrence families share one common bond they encourage others to be organ and tissue donors. This 3-part series explores the life-changing nature of organ donations.
Miles Blomgren, 10, and his brother, Aiden, 7, are growing by leaps and bounds and are always ready for a new adventure.
That's pretty typical for boys.
But what makes the Blomgren brothers special is that they have overcome progressive familial intrahepatic cholestasis, an inherited disease that causes progressive jaundice and scarring of the liver.
As toddlers, they were jaundiced, scrawny and couldn't jump or run.
Both boys received liver transplants at Children's Memorial Hospital in Chicago. At age 2, Miles received a portion of his dad's liver. The surgery came in the nick of time because Miles' original liver was cancerous and had they waited, the cancer might have spread.
At age 3, Aiden received a liver from someone's deceased loved one. His parents, Dan and Jill, are forever grateful, especially because neither of them were a match for Aiden.
Four years later, the boys are as energetic as ever.
"They wear me out," Jill said, laughing.
Miles is participating in a groundbreaking study where living donor recipients are gradually taken off anti-rejection drugs. He took his last anti-rejection medicine — which can cause nasty side effects — on Dec. 26, 2007. A year ago, he was getting lab work done every two weeks. Now, he goes in once a month. Aiden's medications have been significantly reduced since his surgery.
Both have been getting a good bill of health during checkups in Chicago. Jill described the family as happy, energetic and doing great.
Aiden has taken to playing soccer. Meanwhile, Miles like to dabble in a bunch of sports. They still love on their dog, Cocoa, a brown miniature Labradoodle.
"We've had no problems at all," she said. "Life is great."
Copyright 2018 The Lawrence Journal-World. All rights reserved. This material may not be published, broadcast, rewritten or redistributed. We strive to uphold our values for every story published.