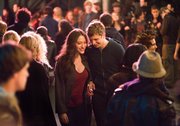 According to Ian Weaver, it's not about the movie. It's about the couple.
"Any movie could be a good date movie," says Weaver, who is shift manager at Blockbuster, 4651 W. Sixth St.
Weaver says selecting the perfect date movie can be difficult, depending on the type of people in the relationship.
The majority of couples who walk into movie rental stores probably walk out with a comedy.
"I would say a lot of fun date movies are comedies," Weaver says.
It's not because the flicks are cheaper. Rather, Weaver says they appeal to a wider variety of people.
"I think comedies are popular because it's always fun to laugh with someone you like," says Chris Jones, manager of Hastings, 1900 W. 23rd St.
Some more popular comedy new releases are "Rachel Getting Married," "Role Models" and "My Best Friend's Girl," Jones says.
Randa Hessman, manager of Family Video, 1818 Mass., would add another comedy to that list: "Pineapple Express."
"I find couples renting the silly comedies more often than anything else," she says.
Hold onto each other
If a couple has the right personality, even horror films could make good date movies, Hessman says.
"Younger couples seem to like the horror movies," she says.
Weaver says a popular horror film to rent is the 2009 version of "Friday the 13th," which is a movie about a group of people who run into Jason Voorhees at an abandoned lake.
Some other new release horror films couples might rent are "The Midnight Meat Train" or "Killer Movie."
First date flicks
Weaver knows a first date can be daunting, terrifying even.
For this reason, he thinks most first-date couples rent something light.
"They want to play it safe, so they come in and rent something they know the other person would like," he says.
A lot of new couples rent "Nick and Norah's Infinite Playlist," says Hessman.
"I noticed a lot of couples renting that one together," she says.
Weaver says it's the light-hearted comedies like this one that bring a young couple together and breaks up the nervousness.
'Resparking the spark'
For some couples, Jones says picking a movie might be more about the quality of the relationship than personality types.
"The younger ones are looking for comedy, and the older crowd are probably looking for more true romance," he says. "The older people are looking for something a little bit more serious and more relevant to their life."
Such movies might include last year's "Nights of Rodanthe" staring Diane Lane and Richard Gere, or a new release romance like "Fireproof."
"Married couples rent 'Fireproof,'" Weaver says. "They like that kind of film about resparking that spark that went out a while ago."
Date movie don'ts
Most movies work well for dates, but not all of them, Weaver says.
Especially teen movies.
"'Nick and Nora's' is a rarity," he says.
Other movies that couples should avoid are films with too much sexual content, such as the new release "Sex Drive."
"It's over the top," he says.
Movies like this one might be too straightforward for a date — especially a first date.
It's the kind of movie a bunch of guys would get together and laugh at, he says.
Copyright 2018 The Lawrence Journal-World. All rights reserved. This material may not be published, broadcast, rewritten or redistributed. We strive to uphold our values for every story published.