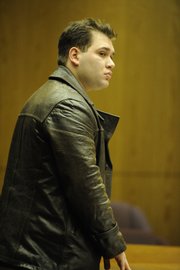 A former Kansas University international student is in jail and faces deportation after pleading guilty Monday to two counts of animal cruelty.
Cem Basoflas, 21, from Istanbul, Turkey, struck a plea agreement with prosecutors during an appearance in Douglas County District Court.
Basoflas pleaded guilty to the two felony counts of animal cruelty, for severely injuring a cat in August 2008 and for torturing and killing a dog in February.
Lawrence police in February arrested Basoflas, who was a KU sophomore at the time, after finding a large amount of blood inside his residence at the Peppertree Apartments in the 2100 block of Heatherwood Drive.
Lawrence Humane Society executive director Midge Grinstead has said the cases are among the worst instances of animal cruelty her staff has seen.
In exchange for the guilty plea, prosecutors won't file any additional charges.
As part of the plea agreement, Basoflas, who had been out of jail on bond, was taken into custody to serve 30 days in jail until his sentencing date May 8.
The minimum sentence is 30 days in jail on each count, but the judge could run the sentences concurrently, which is what both sides will recommend.
The maximum sentence is a year in jail on each count, and Grinstead said she'd like to see Basoflas sentenced to the two years in jail instead.
"I want him to be in jail for a while," Grinstead said after the hearing. "I want him to be deported, too, but I think he needs to serve the time. He committed the crimes and they were vicious and they were brutal."
Basoflas' attorney, Sarah Swain, told the judge that at the conclusion of his sentence the defense will recommend he be turned over to immigration officials to be deported to Turkey.
The plea agreement also recommends Basoflas undergo psychological counseling while in custody at the Douglas County Jail, pay a $500 fine in each case and pay the Humane Society $1,000 to help cover the expenses of the investigation.
Copyright 2018 The Lawrence Journal-World. All rights reserved. This material may not be published, broadcast, rewritten or redistributed. We strive to uphold our values for every story published.