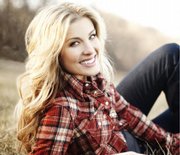 Audio Clips
Sarah Buxton MP3s
No MP3s are available for this band.
-->
-->
When the Academy of Country Music Awards announced its nominations in February, Sarah Buxton found herself among the honored few.
The Lawrence native was designated one of three nominees for ACM's Top New Female Vocalist of the Year.
Yet Buxton has no plans to attend tonight's televised ceremony in Las Vegas.
"I'm not going, because my record label isn't paying for tickets," Buxton says.
"Should I spend all that money on the plane tickets, the show tickets, my dress, the hotel room and then probably end up blowing a thousand bucks at three-card poker? Not smart."
Buxton has needed to weigh many such tough decisions during the past few years since inking with prominent Nashville label Lyric Street, home to acts Rascal Flatts and SheDaisy. Some choices have led to wonderful experiences, others to frustrating ones.
On the positive side, this is the second year in a row Buxton earned a New Female Vocalist nomination. But this was the first time the ACM category was opened up to preliminary fan voting.
"The fans voted, and what's her name — Julianne Hough — won already. She's from 'Dancing with the Stars.' I've never met her, but I really like her," says Buxton, from her home in Nashville.
The 28-year-old performer thought this year she might be able to top Hough and fellow nominee Ashton Shepherd.
"I don't think I could have campaigned harder," she says. "I had so many people who were helping: my mom, my publishing company. I had nurses at Vanderbilt Hospital sending out notes to all the nurses. I really thought I had a shot. I was kind of expecting to win (laughs)."
So no award, no jet-setting to Vegas, no hobnobbing with country's "beautiful people." Instead, Buxton is heading back to the studio armed with a more deliberate purpose of taking her career into her own hands.
Shifting industry
Despite signing to Lyric Street in 2006, Buxton is still awaiting the release of her first record.
So far, she's only issued a digital EP sardonically titled "Almost My Record." The project features five tracks, including her songs "Love is a Trip," which was used to promote the ABC series "Men in Trees," and "Stupid Boy," which heartthrob Keith Urban covered and scored a top-five hit.
"There are probably 20 answers to the question of why the album isn't out, depending on who you ask," she says. "It's taken thousands of dollars of therapy to get to the point where I can talk about it without the blood pressure climbing.
"But honestly, it's a different time in music. Economically, everything around the country is shifting and changing, and people are having to find a lot of new ways to do things — the record industry included. My record label is somewhat old-school. They have not adopted a new method to get records out. I don't want to make them sound like they're Amish, but they're a little behind the times."
Yet the more time marches on, the happier Buxton says she is that her initial recordings haven't made it to CD.
"It's like waiting to get married until you really find the one. I've grown so much as an artist and I'm ready to show myself to the world in a better way than I did on that other record," she admits.
The 1998 Lawrence High School graduate headed to Nashville's Belmont University upon graduation, intent upon fostering her singing career.
Three years on the road with a Southern rock act titled Stoik Oak helped develop her chops. By the time she was 20, she had found full-time work from an independent publishing company writing songs for other artists.
Though she expects this month to land one of her tunes on the latest Sara Evans record, Buxton says she's mainly "focusing on my solo career."
"I'm just allowing myself to enjoy this process," she says. "The musical part and the songwriting is really the fun part. The political part of being an artist is what sucks. I hate that stuff."
Finding her voice
In addition to her well-honed songwriting skills — which already differentiate her from 90 percent of the other young, pretty female artists in Nashville — Buxton is probably best known for her distinctive vocal tone.
USA Today music editor Ken Barnes wrote Buxton has "one of the most immediately arresting voices I've heard in a while."
Doug Howard, Lyric Street's senior vice president of A&R;, describes her pipes as "truly unique and compelling."
"I don't think about it a lot. But sometimes when I hear it back I think, 'That is a really unique voice,'" Buxton confesses. "The weird thing is no one in my family has a voice like mine. It would be one thing if my mom had a really raspy voice, but she doesn't. My mom is an opera singer, and she's like, 'Sarah, can you sing without it being so breathy?'"
Buxton's parents still live in Lawrence. Thus, she's back in her hometown often. (She just returned for eight days over both the Thanksgiving and Christmas holidays.)
Otherwise, the singer is rooted in Nashville, hip-deep in the industry and everything that entails.
She says, "I've entered into a very prolific time. I'm in the middle of writing a bunch of new stuff. I'm hopefully going to be recording. But I'm not going to put out another song without having new management. I want to take on someone who is going to mentor me. Right now I'm doing everything on my own, and I'm kind of tired of it. It's time to have a manager, time to have a coach."
Who knows, maybe next year Buxton will even take home the ACM award for Top "New" Female Vocalist.
Copyright 2018 The Lawrence Journal-World. All rights reserved. This material may not be published, broadcast, rewritten or redistributed. We strive to uphold our values for every story published.