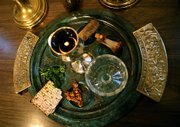 Women's seder
Who: Open to women of all faiths
When: 3:30 p.m. April 12
Where: Lawrence Jewish Community Center, 917 Highland Drive
RSVP: Send e-mail to lawrence.womens.seder@gmail.com by Thursday.
-->
-->
It's an ancient tradition with a double twist: a Passover seder just for women, open to all faiths.
Next weekend — women, old and young, Jewish, Christian, Muslim and more — will sit down, elbow to elbow, for a modern-day version of an ancient ritual. They'll listen as words are read, perfect for the moment:
Each woman has come from a different place and has brought with her different experiences. For some, a woman's seder is a familiar event; for others, it is something new. ... Yet, the face that we are here together assumes that we all have something in common, some shared experiences, some shared commitments, some shared longings.
Those words, or something close to them, will be said at the beginning of a women's interfaith seder held by the Jewish Community Women in conjunction with An Interfaith Dialogue at 3:30 p.m. April 12 at the Lawrence Jewish Community Center, 917 Highland Drive.
The seder, or dinner, is an open invitation to learn about the Jewish faith while enjoying the ritual of the holiday of Passover and the Haggadah shel Pesach — the telling of the story of the Jews' exodus from Egypt — from a unique, feminine point of view.
Though women's seders have become more popular in recent decades, they are still relatively new events in a tradition that dates back to before the time of Jesus, says Eve Levin, one of the organizers.
"The themes of Passover in general are liberation and spiritual growth. And when the women's seders originated, it was because women who were active in the women's movement said, 'This is us,'" Levin says. "We take a lot of the traditional readings and prayers for the traditional seder, and we add meanings to them that are specific to women."
Born during the women's liberation movement of the 1960s and 1970s, women's seders are done in addition to traditional family seders — in which the telling is much more man-centric, says Levin.
"In telling the story, of Passover, the traditional seder, they talk all about ... everything being done by the man, and the traditional seder talks about the rabbis, the rabbis say this, the rabbis say that — and every single one of them is a man," Levin says. "So, for women who were Jewish and feminists, this was a traditional seder, but there's an element that has been left out."
Interfaith dialogue
The interfaith element, however, is something that is much, much younger than the women's movement. That aspect of this particular seder began two years ago when a Christian friend of one of the women who was planning to attend the seder asked if she could come also. She did, and the next year the Jewish Community Women held their first official women's interfaith seder. Among the attendees were Asra Haq, a Muslim and her daughter, Ammaarah, who came to the seder after hearing about it through An Interfaith Dialogue, a local interfaith group.
"Bringing my 12-year-old daughter, Ammaarah, to the seder last year was a wonderful experience for both of us," Haq says. "First, it allowed us to learn about the seder and its significance in particular for women and girls. Secondly, my daughter enjoyed being a part of and learning about another faith tradition."
Danielle Price, who along with Levin is hosting the event this year, says the experience was equally educational for the Jewish women in the room.
"The experience was fantastic," Price says. "I learned that even though we come from different faiths and backgrounds, our experience as women is really not that different."
As the groups combined to put on the event again this year, scheduling proved to be tricky. Levin says that they wanted to have it on a weekend day so that more women might be able to attend than did during last year's weeknight service. But with Shabbat taking up most of Saturday and the Sunday during Passover usually being Easter, the women had to make a tough decision. In talking with Christian women, they decided to go ahead with the Easter date, hoping that a late afternoon event would fall at a good time for women who plan to go to church or do an egg hunt or Easter dinner.
The organizers understand that date still might make it tough for some women to attend but invite women and their daughters of any faith to attend, so long as they RSVP by Thursday. Dru Sampson, a Christian involved with An Interfaith Dialogue, says it's an experience helpful to anyone on a journey of understanding.
"I hope that people of other faiths will take the opportunity to learn more about the Jewish faith through attendance at this," Sampson says. "I think they will find it not only interesting, but very enjoyable."
Copyright 2018 The Lawrence Journal-World. All rights reserved. This material may not be published, broadcast, rewritten or redistributed. We strive to uphold our values for every story published.