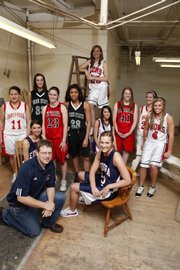 Taylor Bird - Lawrence High, Sr.
While being named to the all-Sunflower League's first team for the third straight season, Bird delivered the best all-around campaign of her career. She was the only player in the Sunflower League to rank in the Top 8 of all four major categories — 2nd in points (17.5 ppg), 2nd in rebounds (9 rpg), 8th in assists (3 apg) and 6th in steals (3.1 spg) — and one of just two players to rank in the Top 6 in points, rebounds and steals.
Haley Parker - Lawrence High, Jr.
After a solid first season with the Lions a year ago, Parker did not disappoint in her follow-up campaign. She finished second on the team in scoring at 10.8 points per game — 12th in the Sunflower League — and was third on the team in three-point shooting, first in free throw shooting and fourth in assists.
Ashli Hill - Free State High, Jr.
After showing flashes of what she was capable of during her sophomore season, Hill became a much more consistent player during the 2008-09 campaign. She finished in the Top 20 in the SFL in scoring (9.1 ppg) and was fourth in the league in rebounds per game, at 7.9. In addition, her 4 blocks per game put her at the top of the league.
Chantay Caron - Free State High, Jr.
Caron's season was about much more than the school-record 36 points she scored during a road-win against Sunflower League powerhouse SM West. Caron led the Firebirds in scoring with 14 ppg and was second on the team in rebounding at 6.4 rpg. Both placed her in the Top 10 in the SFL. In addition, she shot 70 percent from the free throw line, 50 percent from the field, all while holding down point guard duties for the Firebirds during the final two-thirds of the season.
Haley Epperson - Eudora High, Sr.
The Cardinals' leading scorer of the past three seasons delivered a gem of a performance during her senior year. She averaged 16 points and 7 rebounds per game in helping lead the Cards to the Class 4A state tournament in Salina. She scored inside and outside and was a surprisingly good passer for a forward. During the past four seasons she helped lead EHS to a 59-28 record.
Bailey Scott - Eudora High, Sr.
Scott's stat line was indicative of her role on the Eudora High team, as she did much more than score all season. She averaged 11 points per game and chipped in 4 rebounds, 3 steals and 3 assists per contest while often guarding the other team's best player. She rebounded well for her position and looked to create scoring opportunities for her teammates as often as she looked to score.
Kara McFarland - Ottawa High, senior
This four-year varsity player makes the All-Area team for the second straight season. She finished the year with averages of 11 ppg, 8.5 rpg and 3 apg, while being named to the Frontier League's first team for the second straight season. McFarland has signed to play college basketball at Fort Hays State University.
Jordan Baldwin - Ottawa High, Fr.
The Cyclones' freshman point guard broke onto the scene with a monster season that included numbers of 10 ppg, 5 apg, 4 rpg and 3 spg. Ottawa finish the year at 18-5 and tied for first place in the Frontier League, Baldwin was named second team all-league.
Chrissie Jeannin - Tonganoxie High, Sr.
Jeannin finished the season averaging nearly 12 points per game and more than 6 rebounds per game for the Chieftains. In addition to doing her part in both the scoring and rebounding departments, the crafty senior was a steady presence on defense and a master at running the show offensively.
Veronica Grizzle - Tonganoxie High, Sr.
The girl known most for her ability to toss the shot put and discus showed that she has a little game on the hardwood as well. Holding down the interior for the Chieftains, Grizzle averaged 14 points per game and more than 7 rebounds per game during a breakout season.
Nicole Rockhold - Oskaloosa High, Sr.
Rockhold finished the season averaging 20 points per game, 5 rebounds, 4 assists and 4 steals. The 5-10 senior guard leaves Oskaloosa with 1,139 career points and with several school records, including: most assists in a career, most blocks in a career and most points in a single game.
Honorable Mention: Jasmyn Turner, Cassie Potter, Lawrence High; Ashleigh Allam, Wren Wiebe, Free State High; Hailey Kelly, Haley Pfau, Oskaloosa High; Kendal Abel, Eudora High; Katie Volle, Perry-Lecompton High; Kristen Hendrickson, Ottawa High.
Copyright 2018 The Lawrence Journal-World. All rights reserved. This material may not be published, broadcast, rewritten or redistributed. We strive to uphold our values for every story published.