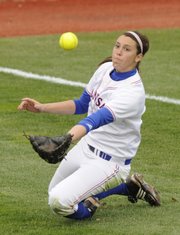 Sure, the circumstances were a little more pressure-packed than some of their previous encounters, but Amanda Jobe sensed the familiarity of the moment as she stared into the pitcher's circle Wednesday evening at Arrocha Ballpark.
Jobe, Kansas University's designated player, saw the pitching change being made by Missouri in the bottom of the seventh inning with the game on the line, and all her at-bats against incoming pitcher Jana Hainey came flooding back.
All the way back to the under-14 summer softball leagues when the two played on not-so-friendly rival Kansas City-area AAU teams: Jobe for the Olathe Rockets and Hainey the Kansas City (Mo.) Lasers.
"I've seen her for so long, and she hasn't really changed," Jobe said, "so I was pretty excited when she came in."
So excited, in fact, that Jobe — who entered the day with just one home run all season — raked a walk-off, three-run homer over the right-field wall on Hainey's first offering, propelling Kansas to a 4-1 victory in Game Two of the Jayhawks' doubleheader against the Tigers. That salvaged a split of the day after Missouri run-ruled Kansas, 8-0, in six innings, and sent the Kansas players into delirium around home plate.
The theme song from "The Natural" blared over the speakers. Jobe rounded third, touched home and was mobbed by teammates. Strangely, the lights in the ballpark went out immediately.
Perhaps this was more symbolic than anything else. Jobe did not shatter the bulbs in the stadium lights a la Roy Hobbs when she knocked her towering shot to right. Instead, someone had switched the wrong breaker off, triggering sudden darkness on the field.
Still, Jobe's blast provided a rare, Hollywood-like moment for the slumping Jayhawks.
Wednesday's victory snapped a six-game losing skid for Kansas (11-20, 1-3 in Big 12 play), while also halting 13th-ranked Missouri's six-game winning streak.
"We've been struggling lately. No one's going to deny it," Jobe said. "I really think it's something we can build off of and kind of start over again."
The odds were tremendously stacked against Kansas heading to the final inning of Game Two. Missouri (31-5, 4-2), the best-pitching team in the Big 12 (1.24 team earned run average) clung to a 1-0 lead and hadn't allowed a run during the doubleheader's first 12 innings.
But KU right fielder Liz Kocon ended that scoreless streak on the first at-bat of the seventh with a booming home run to right field, tying the game at 1.
"I was real mad that we just got run-ruled the first game," Kocon said. "I was like, 'They're about to sweep us on our home turf. That's not going to happen.' That's just what I had in my head."
Kansas then received a double from Allie Clark and a walk from Elle Pottorf, helping to chase undefeated starter Kristin Nottelmann and set the stage for Jobe's heroics.
KU starting pitcher Sarah Vertelka picked up the complete-game victory after allowing one run on five hits.
"It's huge for momentum," KU coach Tracy Bunge said of the Jayhawks' first victory in two weeks. "It's huge just for the psyche. This group's got a lot to be proud of. They really do."
Copyright 2018 The Lawrence Journal-World. All rights reserved. This material may not be published, broadcast, rewritten or redistributed. We strive to uphold our values for every story published.