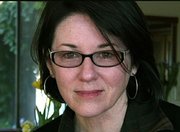 Jane Stevens, internationally known multimedia journalist who's currently a fellow at the Donald W. Reynolds Journalism Institute at the University of Missouri, will start work in June as director of online strategies for The World Company.
"We're excited about having Jane join our company and look forward to her involvement and leadership," said Dan Simons, president of the company's electronics division, adding, "She brings immense talent and we look forward to what she and our team can produce together at a time when the information industry is going through tremendous changes."
Said Stevens, "The opportunity to be working with a team of journalists who've been leading the way in the transition from print and television to the Web is a dream come true. There's no other news organization in the country that's been making the difficult decisions and taking the risks required to consistently push into the new medium as diligently as The World Company has. I can hardly wait to start."
Stevens will lead a team that is involved specifically with the company's internal Web and journalism operations. The job resulted when the company divided its Web operations into a commercial team, Mediaphormedia, headed by Dan Cox, and the internal team.
Stevens is completing a year as a fellow at the Reynolds Journalism Institute. Additionally she is an associate faculty member at the Knight Digital Media Center at the University of California-Berkeley Graduate School of Journalism. She is a newspaper journalist who made the transition to Web in 1997 while among the first group of videojournalists at New York Times TV. In 2000, she developed the first multimedia reporting classes at the UC-Berkeley Graduate School of Journalism.
The following year, with Paul Grabowicz at UC-Berkeley, she developed multimedia reporting workshops for mid-career journalists at what is now the Knight Digital Media Center. In 2007, she developed science news sites that used beatblogging, interactive mapping and social networking.
Copyright 2017 The Lawrence Journal-World. All rights reserved. This material may not be published, broadcast, rewritten or redistributed. We strive to uphold our values for every story published.