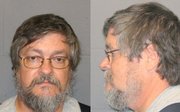 A former Kansas University employee is serving one month in Douglas County Jail, after pleading guilty to charges of stealing thousands of dollars of equipment from various campus buildings, court records said.
Robert Lee Sample, 56, also will spend one year on probation for three felony theft counts and was ordered to pay $18,650 in restitution, prosecutors said.
He was arrested for stealing expensive cameras, computers, cleaning items and musical instruments. The thefts were reported between June 22, 2004, and Aug. 15, 2008.
Sample was a building systems technician senior and worked at the university for nearly 18 years. His employment at KU ended Sept. 5, 2008.
Copyright 2018 The Lawrence Journal-World. All rights reserved. This material may not be published, broadcast, rewritten or redistributed. We strive to uphold our values for every story published.