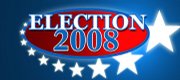 In-depth coverage of the candidates and the issues, all leading up to the Aug. 5 primary and the Nov. 4 general election.
Republican state Sen. Roger Pine and Democratic challenger Tom Holland dueled Tuesday over immigration and Pine's residence.
The two are vying on the Nov. 4 ballot to represent Senate District 3, which includes North Lawrence, much of eastern Douglas County, including Eudora and Baldwin City, all of Jefferson County and much of Leavenworth County outside the cities of Leavenworth and Lansing.
At the end of the debate at Lawrence High School, Holland, who is a state representative, hammered Pine about where Pine lives.
"I believe when you have a candidate who has not been truthful about where he lives, then I think you do have an issue of trust in this Senate race," Holland said.
Pine couldn't respond during the forum because Holland went last in presenting his closing statement.
But afterward Pine said, "I didn't try to do anything wrong or improper."
The dispute is over Pine listing Lawrence as his ballot city and having voted in Douglas County even though he lives in Leavenworth County.
In the August GOP primary, Pine had to file a provisional ballot because a poll worker knew he didn't live in Douglas County.
Pine has said he listed Lawrence as his residence because that is where he grew up and lived most of his life. And, he said, in recent years he occasionally spent the night at the family business in Lawrence.
On illegal immigration, Pine noted he voted for a bill in the Senate aimed at reducing illegal immigration, but Holland charged that the measure wasn't tough enough.
Copyright 2018 The Lawrence Journal-World. All rights reserved. This material may not be published, broadcast, rewritten or redistributed. We strive to uphold our values for every story published.