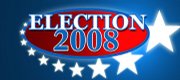 In-depth coverage of the candidates and the issues, all leading up to the Aug. 5 primary and the Nov. 4 general election.
Democratic state Sen. Marci Francisco and Republican challenger Scott Morgan disagreed Tuesday on several major issues, including a statewide smoking ban, an increase in the state minimum wage, and coal-burning power plants.
Morgan and Francisco faced off in a forum at Lawrence High School that was sponsored by the Voter Education Coalition, a nonpartisan partnership of 18 local organizations. The two candidates are battling in the Nov. 4 election for the 2nd Senate District, which includes most of Lawrence.
Morgan refused to be pinned down on the question of whether he supported Gov. Kathleen Sebelius' denial of two coal-fired plants in southwestern Kansas. The issue roiled the last legislative session after Sebelius, citing concerns about climate-changing carbon dioxide emissions, vetoed bills that would have paved the way for the plants.
"I can't give you a yes or no," Morgan said when asked if he supported denial of the project. He added, "I think we need to have coal plants in the state."
He said use of fossil fuels must be part of a comprehensive energy plan, and added that he could support a "revenue-neutral" tax on carbon dioxide emissions.
Francisco opposed legislation to build the plants, noting that most of the energy produced from the project would have been sent to out-of-state customers while Kansas would have been saddled with the pollution problems. She said energy conservation had to be a large part of any comprehensive energy proposal.
The two also were at odds over a proposed statewide ban on smoking in indoor, public places that would be similar to the ban in Lawrence.
Francisco said she would support extending that ban to the entire state, but Morgan said he "would have hesitation." He said he wouldn't want to tell other places in the state what to do because he wouldn't want legislators from other parts of the state getting involved in local policies affecting Lawrence.
Francisco said an increase in the cigarette tax, coupled with the statewide smoking ban, "would significantly improve the health" of Kansans. Morgan said he wasn't "morally opposed" to a cigarette tax increase, but that it wasn't a priority for him.
On the state minimum wage, the two candidates drew sharp differences. The $2.65 Kansas minimum wage is the lowest in the nation.
Francisco said she would support an increase. "It's not an appropriate wage to be paying to anyone," she said.
But Morgan said, "I would prefer to see it stay where it is."
The state minimum wage affects about 19,000 workers in Kansas, mostly in service or agricultural jobs who aren't covered by the federal minimum wage law, according to the U.S. Department of Labor.
Copyright 2018 The Lawrence Journal-World. All rights reserved. This material may not be published, broadcast, rewritten or redistributed. We strive to uphold our values for every story published.