Sales tax endorsements
Endorsements are starting to come in for a trio of sales questions that voters will decide on Nov. 4.
The Lawrence Association of Neighborhoods voted to support both public transit sales tax questions and a third sales tax that would support infrastructure projects, said Gwen Klingenberg, president of the association.
But the League of Women Voters of Lawrence-Douglas County has stopped short of offering a full endorsement of all three taxes. Instead, the league has endorsed only the public transit sales taxes, said Carrie Lindsey, president of the league.
Lindsey said the league traditionally has had concerns about new sales taxes because of their regressive nature. But Lindsey said the league agreed to endorse the public transit sales tax questions because of the organization's long-standing support for public transportation in Lawrence.
The league will hold a forum on the public transit issue from 7 p.m. to 9 p.m. on Oct. 8 at Plymouth Congregational Church, 925 Vt.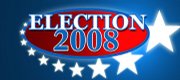 In-depth coverage of the candidates and the issues, all leading up to the Aug. 5 primary and the Nov. 4 general election.
A pair of Lawrence attorneys - one a prominent Democrat and the other an active Republican - have created a new group to campaign for passage of all three city sales tax questions in November.
Dan Watkins and Brad Finkeldei are set to launch a new campaign titled Yes for Lawrence that will urge voters to approve two sales tax questions related to public transit and one sales tax question dedicated to infrastructure improvements in the city.
It is the first group that has set up an active campaign urging passage of the infrastructure question. Another group - Campaign to Save the T - already is active in urging voters to support the transit questions.
Watkins said it is important that voters don't let the high-profile debate over the future of public transit overshadow the need to approve the infrastructure sales tax.
"It is pretty clear that we have deferred a lot of maintenance on the streets, and that work is really needed," Watkins said.
The infrastructure sales tax - question No. 1 on the ballot - would create a new 0.30 sales tax for 10 years to fund street improvements, fire truck purchases, stormwater improvements, sidewalk upgrades, and hike and bike trail construction.
In particular, city staff members have suggested portions of Bob Billings Parkway, Kasold, 19th Street and Wakarusa could be rebuilt if the sales tax is approved. Also planned are a stormwater pump station improvement for North Lawrence, construction of the Burroughs Creek Trail in East Lawrence, $500,000 a year for fire truck purchases, and $500,000 a year for residential street maintenance and sidewalks.
Watkins said the group plans to run an active campaign, including purchasing advertisements in local media urging people to vote for all three sales tax questions.
Finkeldei said one strategy will be to convince voters that new sales taxes may be better than the alternative. Finkeldei said he's concerned that if the sales taxes fail, future city commissioners will be under pressure to increase property taxes to fund infrastructure needs.
"I think the consequences are far reaching if these questions fail," Finkeldei said. "It would leave the city with three choices - let our infrastructure deteriorate, increase our property taxes or cut other parts of the budget. None of those are really very good, viable alternatives."
The campaign hopes to attract supporters from across party lines. Watkins previously has been one of the more active campaigners in the state for Democratic office seekers. Finkeldei - who is a Lawrence-Douglas County planning commissioner - has been active in several local Republican races.
Thus far, a group has not officially organized to urge voters to reject the sales tax questions. But Jim Mullins, a coordinator for the Americans for Prosperity group, said his organization is considering an active vote no campaign.
"There are a lot of people who are living on the borderline right now," Mullins said. "There are a lot of retired people on fixed incomes who can't afford this."
The election will take place Nov. 4.
Copyright 2017 The Lawrence Journal-World. All rights reserved. This material may not be published, broadcast, rewritten or redistributed. We strive to uphold our values for every story published.