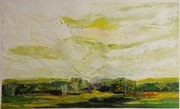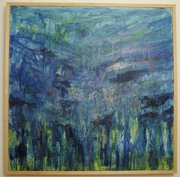 "Art is not a philosophical system embracing the whole world; it is an immensely local affair, and the outstanding characteristic of any original style is the local signature, the impress of a specific environment which, by modifying traditional techniques, makes possible a new mode of expression."
When Kansas art critic Thomas Craven wrote this in 1939, he couldn't have known he was describing the work of contemporary artist Elizabeth Rowley, who has lived and worked in Lawrence for five years. She's trained in traditional techniques, but, from an early age, was influenced and encouraged to find new forms of artistic expression.
Her father, writer and artist Patric Rowley, mowed lawns in Wichita in exchange for lessons from William and Betty Dickerson, members of the Prairie Printmakers group whose works (from 1930-65) are now collectibles.
"Our family went to the Dickersons' house every Sunday for brunch," Rowley recalls. "They had paintings and drawings everywhere, some finished and some not. Santa Fe mugs were displayed on kitchen shelves. Everything there was a visual feast of mixed colors and patterns."
Patric Rowley's home, like the Dickersons', was filled with original art. He constantly encouraged his five children in their artistic endeavors.
"Every Friday night we'd make art and hang it up," Elizabeth Rowley remembers. "My father gave us mini-critiques before awarding each of us a prize."
She admits she was particular as a child, caring about how she looked and obsessive about the tidiness of her room (she's since recovered.) She loved spending time working beside her father and making art in his messy but minimalist studio.
"Looking back, I realize how the Dickersons and my father influenced my life in terms of how they lived as artists," Rowley says. "They lived for their art, were willing to make sacrifices and experiment with new techniques, and shared their gifts with others. I also learned the importance of critiques in improving and developing my art."
She graduated from Wichita State University in 2002, with a Bachelor of Fine Arts in painting and drawing, and a Bachelor of Arts in studio arts.
Rowley's work, like that of her early influencers, is based on the Kansas landscape. When she discovers a remote place during meditation and reflection in the countryside, she'll return with her easel and paint in the open air (a style largely associated with 19th century Impressionists who captured outdoor light in their paintings.) Rowley paints quickly, capturing an immediate impression of what her eyes see and her spirit feels. It's a fusion of the real landscape with her emotional response to it - moments of the natural world captured in paint.
"I put lots of paint on the canvas with a palette knife," she explains. "There's never too much paint to be used to describe the layers and textures of nature."
Rowley takes this experience further and produces larger abstract work using encaustic technique, often referred to as the "poor man's glaze" by artists. This process utilizes molten wax (locally produced beeswax), resin and pigments that are fused into a continuous layer and fixed to a support with heat to achieve the lustrous enamel and translucent appearance.
"The process isn't precise and meticulous, it's bold and passionate," she explains. "I use painting knives, kitchen utensils and my own hands to manipulate the surface to build and deconstruct the layers. As I tear and gouge the painting with my tools, I'm trying to find the beauty within the tensions. I look into the natural world, its outer surface and its internal light, its violence and its calm."
She adds fibers and thread to her work to create more depth and light.
"The fiber creates texture; thread creates a makeshift grid in some of the work. This invites and enables the viewer to see a snippet of the work and also makes a statement about conventional landscapes," she explains.
Scenes aren't expressed with object and form, but with place, color, texture and movement that reflect her personality and spiritual vibrancy.
"I try to truly see - not just look at - the landscape," Rowley says. "I'm not bound by conventional standards to create these landscapes. The materials and process I use creates the contemporary feel and modern light expression."
Copyright 2018 The Lawrence Journal-World. All rights reserved. This material may not be published, broadcast, rewritten or redistributed. We strive to uphold our values for every story published.