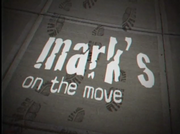 "Mark's on the Move" is a new feature segment as 6News anchor/reporter Mark Boyle searches for the often untold and overlooked stories in our community. This is a great chance for you the viewer to weigh in on and add to the stories that we are unable to cover through our daily news coverage.
Mark is looking for your participation, comments and suggestions. "Mark's on the Move" will appear Sundays throughout the fall online at LJWorld.com, during the Sunday 10 p.m. broadcast on 6News and in the Sunday edition of the Lawrence Journal World.
Blogging on the Move
Cup stacking a part of P.E. class? Originally, just thought of the idea seemed ridiculous, quickly thinking back to my elementary school days and they seemed much, much different. I chalked the activity up as being one used to merely take children's minds off of school for a little while.
Au contraire mon frÃre/ma soeur : those four 3rd and 4thgraders at Perry Elementary laid down the timed mat, and speed stacking cups in front of me and that's when the sport took on a whole new dimension. The sport (and yes it is a sport, just refer to the World Speed Stacking Association website to confirm this) is a true test of touch, hand/eye coordination, quickness and friendly competition. I felt ridiculous for thinking the sport was ridiculous in the first place. The more I read into the sport, the more sense it made to integrate this into our school systems, if for nothing else,a couple of hours a week.
Perry Elementary students are treated to this change of pace three times a week and I believe may be better for it. All doubt escaped my mind when I witnessed the camaraderie the students have with each other while participating in speed stacking. I am confident their smiles will do the same for you as well.
Copyright 2018 The Lawrence Journal-World. All rights reserved. This material may not be published, broadcast, rewritten or redistributed. We strive to uphold our values for every story published.