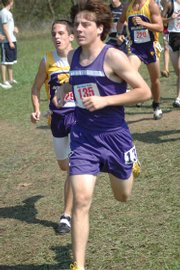 If the challenging course and top competition wasn't enough of a battle, local cross country teams had to endure the heat at the Rim Rock Classic Saturday.
The temperatures for the junior varsity races in the morning weren't scalding. But by the time the varsity races began around 11 a.m., the mercury was rising.
Eighty-degree temperatures weren't an excuse for teams, but did affect them, as several local runners were unable to finish their races.
"It was a very hot day," Lawrence High coach Brian Anderson said. "We had a few people that went down with injuries and heat-related issues. It got really warm out here and you never know what's going to happen. I'm more worried about our athletes than the results."
The Free State girls led the way for the Lawrence schools. The Firebirds finished fourth of 25 teams in the gold division. The Lawrence girls placed 21st. Jefferson City (Mo.) won the team crown.
"I was really happy with that, because we are missing a couple of kids out of our top four," Free State coach Steve Heffernan said. "I knew today wouldn't be our best day, but to finish fourth is our best finish here, so we'll take that."
The Lawrence High boys placed eighth of 28 teams in the gold division. St. Louis (Mo.) claimed the title.
"Our boys ran really well," Anderson said. "I was proud of them. It sure would have been nice if the weather was cooler."
Free State's boys placed 18th.
The Lions' Roy Wedge was the highest city finisher. Wedge placed fifth and finished the 5-kilometer race in 16:31.65. Baldwin's Tony Weiss led all area runners with a fourth-place finish as he edged out Wedge at 16:30.97.
"I was pretty happy," Weiss said. "I was shooting for finishing in the top 10 or top five. It was a tough race, but I was happy."
On the girls side, it was the Firebirds' Kyra Kilwein leading the charge. Kilwein finished in sixth place as she ran a 15:26.63 on the 4-kilometer course.
"It was definitely warm today, but it was a good day to compete," Kilwein said. "There was some tough competition here today and it was a really good race."
De Soto's Ellie Sheridan was the first area runner to cross the finish line. She placed 14th to lead the Wildcats. Baldwin was led by Calleigh Durr, who missed medaling by one spot as she finished 26th.
Baldwin, without Corinna Papps, finished 10th in the girls gold division. De Soto placed 15th.
Copyright 2018 The Lawrence Journal-World. All rights reserved. This material may not be published, broadcast, rewritten or redistributed. We strive to uphold our values for every story published.