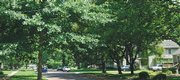 Welcome to our ongoing project, LJWorld.com/Green. Here you can find tips on how to make your life environmentally friendly and read stories about what others in the community are doing to live a more green lifestyle. Eat local, conserve resources, be green.
Suzanne Graham offers a solution to the economic crisis shaking America - green jobs.
"If our government invests in renewable energy and creating a green economy, we can create about two million jobs for our country," said Graham, a Greenpeace global warming organizer. "That means 19,000 jobs for Kansas alone. It's about time. Kansas needs some jobs."
The estimated $100 billion cost of this investment, Graham noted, is one-seventh the cost of the $700 billion national bailout plan for banks proposed last week. Graham was citing information from a recent report titled "Green Recovery: A Program to Create Good Jobs and Start Building a Low-Carbon Economy" authored by faculty at the University of Massachusetts Amherst and supported by the Center for American Progress.
"It would put us on the right path toward not only fixing our economy and creating jobs for real people in America, but also stopping our global warming crisis," she said.
Graham led a news conference on green jobs Saturday on Massachusetts Street.
About 20 people gathered to listen and discuss renewable energy sources and the potential impact of their development on the state and national economy.
The event was part of the National Day of Action, a movement to press for public investment in green jobs.
The activists support tax credits to private businesses and homeowners for investments in renewable energy systems, government spending on the expansion of mass transit, freight rail and smart electrical-grid systems, public building retrofits, and renewable energy.
Such efforts would lead to new jobs for engineers, heating/air conditioning installers, carpenters, building inspectors, welders, industrial machinery mechanics and other workers, according to the Green Recovery report.
"Every job that we have today, it's possible to turn it into a green job," Graham said.
She gave the example of the state updating public buildings to be more energy efficient.
Each job, such as the production and installation of energy-efficient glass windows would be a green job, she said.
"We need to understand that taking care of carbon emissions is really not a problem, it's an opportunity," said Joe Spease, CEO of alternative energy company WindSoHy in Overland Park.
Copyright 2018 The Lawrence Journal-World. All rights reserved. This material may not be published, broadcast, rewritten or redistributed. We strive to uphold our values for every story published.