Photo Gallery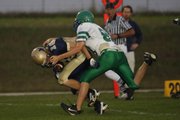 Veritas football vs. Hutchinson
Fathers have been known to dig dirt to build sons sandboxes. Roger Johnson of R.D. Johnson Excavating in Lawrence dug dirt to build his son and teammates an 80-yard football field, a hidden jewel on the area sports scene.
And, man, is Jeremiah Johnson having a blast playing on the field his father helped to build.
Johnson led Veritas Christian to a 56-28 victory Friday night against Hutchinson Central Christian at the Eagles Nest, the second-year home of the Eagles located behind the First Church of the Nazarene on 1000 Road about a quarter-mile west of Haskell Avenue.
Mix blockers who can open lanes with a back who can outrun the competition in eight-man football, and the numbers can be staggering.
Johnson rushed for 294 yards and six touchdowns and did that playing almost exclusively defense in the second half. By halftime, he had 16 rushes for 269 yards and six touchdowns, including runs covering 54, 53, 51 and 30 yards. He rushed twice in the second half.
"We have to have him last the whole season," Veritas coach Doug Bennett said. "We can't use it all up in one night."
Johnson sat out the final series of the first half while getting his bruised forearm taped. Had he been used full-time on offense, there's no telling how many yards he could have gained. Maybe 400, even 500?
"It's OK," Johnson said. "I had a good first half, and coach didn't really want to risk me getting hurt."
Johnson threw much of the credit the way of blockers, including fullback Neal Daniels, a senior playing his first year of football and looking like a veteran. Daniels was all over the field defensively and on special teams, repeatedly making hard-hitting tackles. He also ran for a 32-yard touchdown in the second half.
"The blocking in the first half was really good, probably the best we've had all year," Johnson said.
Jon Smerchek, Jacob Reynolds, Ethan Kay and Daniel Metcalf helped to spring Johnson.
Defensively, Hogan Randall repeatedly stopped ball carriers and also had an interception. Winston Miller, a 6-foot-4, 246-pound sophomore who outweighs every teammate by 61 pounds or more, stood out as well.
"Lot of hard hitting," Bennett said. "This is probably our hardest-hitting team we've had. It's fun to see them hit like that."
Johnson did his share of hitting from the safety position. While he stood and watched on offense for most of the second half, younger players gained experience. Freshman quarterback Nick Bennett, the coach's son, and classmate Preston Randall, Hogan's brother, appear to be developing a pass-and-catch chemistry.
Sophomore Ethan Scott, another player from whom big things will be expected, sat out with his foot in an ice bucket. He twisted his ankle in pregame warmups.
"I was looking forward to having him split time with Miah," coach Bennett said.
Johnson fared fine alone, making an asphalt track out of the football field his father enjoys grooming.
"He dug all that out, leveled it out and helped us crown the field," Bennett said of Roger Johnson. "And he's been watering it all summer."
His son made sure to reward him for all that hard work. Veritas Christian is 2-0 this season, and Jeremiah Johnson already has scored 11 touchdowns.
Copyright 2017 The Lawrence Journal-World. All rights reserved. This material may not be published, broadcast, rewritten or redistributed. We strive to uphold our values for every story published.