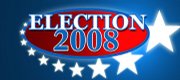 In-depth coverage of the candidates and the issues, all leading up to the Aug. 5 primary and the Nov. 4 general election.
Lawrence residents were across the board on reactions to Friday's presidential debate.
Some were bored, and an undecided voter was swayed one direction.
Overall, many said U.S. Senator John McCain was more forceful than Senator Barack Obama, but that wasn't a favorable attribute for some.
For one Lawrence couple, Mininder Singh, 50, and Paramjit Singh, 58, the debate simply rehashed everything they had heard.
"Frankly, I was bored," Paramjit said. "I wasn't particularly impressed with either one of them."
Call it political fatigue, Mininder Singh said.
"With this whole economic thing I'm just so upset about it, I just wasn't really in the mood to hear more of the same," she said after watching most of the debate at Abe and Jake's Landing. The Kansas Democratic Party was host to the watch party there that was attended by more than 200 people.
The senators largely discussed foreign policy and national security during the debate.
McCain's aggressive manner turned Singh off.
"I wish (Obama) would be more forceful, but that's not the kind of person he is, so I admire that about him and I do think we need a calm, deliberate approach to almost every problem."
When it came to questions about the budget, one sentence that Obama said "grabbed her," she said.
In response to McCain's answer about making numerous budget cuts, Obama responded by saying, "well, that's like using a hatchet when you really need a scalpel."
"For me, that spoke volumes," she said. The scalpel describes a more meticulous and precise solution to cuts, she said. "I said, 'That's it - he's a hatchet man, and he's a scalpel man.'"
Scott Mahoney, 18, a Kansas University freshman from New Jersey, became a McCain supporter after watching the debate at the Dole Institute of Politics along with approximately 25 people. He was undecided, but national security was the clincher.
"I feel like the most important job of the president is national security and safety," he said. "I feel much safer having McCain as a president during a time like this than I would Obama."
Longtime McCain supporter Loretta DeSandro, 80, who lived in Arizona for 24 years before moving to Lawrence this summer, was looking for straightforward answers during the debate she watched at Brandon Woods at Alvamar. She said she thought both candidates were being sincere, but there was too much "he said" for her liking.
"How do we the people that haven't been there know what was said," she said. "We don't know. So you just have to take their word for it."
"All I can say is I wouldn't want to be the president," she said. "He's got some very important things to deal with, and I don't think either one of the men are wrong. I think both are right in their own way, they contradict each other, but that's politics."
Copyright 2018 The Lawrence Journal-World. All rights reserved. This material may not be published, broadcast, rewritten or redistributed. We strive to uphold our values for every story published.