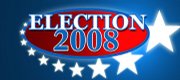 In-depth coverage of the candidates and the issues, all leading up to the Aug. 5 primary and the Nov. 4 general election.
New York City — Republican vice presidential nominee Sarah Palin defended her comment that the proximity of Russia to her home state of Alaska gives her foreign policy experience, explaining in a CBS interview aired Thursday that "we have trade missions back and forth."
Palin, the 44-year-old Alaska governor, has never visited Russia and had never traveled outside North America until last year. She also had never met a foreign leader until her trip this week to New York. In the interview, she did not offer any examples of being involved in any negotiations with Russia.
Palin's foreign policy experience came up when she gave her first major interview, on Sept. 11 to ABC News. Asked what insight she had gained from living so close to Russia, she said: "They're our next-door neighbors and you can actually see Russia from land here in Alaska, from an island in Alaska."
Copyright 2018 The Lawrence Journal-World. All rights reserved. This material may not be published, broadcast, rewritten or redistributed. We strive to uphold our values for every story published.