Photo Gallery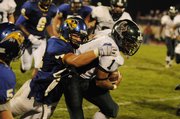 Free State football vs. Olathe South
Olathe - Normally one to stay calm on the sidelines, Free State High football coach Bob Lisher had no problem showing his emotions late in Friday's game against Olathe South.
With the Firebirds leading, 18-0, and only the shutout still in doubt, Free State senior Eric Franz intercepted a Tanner Dutton pass with 1:28 remaining.
Instantly, Lisher threw both arms in the air and raced down the sideline to greet his defense as it charged off the field.
"I'm really proud of that zero on the scoreboard," Lisher said, "because Olathe South is a very, very good football team, and shutouts against teams that good don't happen very often."
The final score was just the start of how thorough Free State's domination was Friday. The Firebirds limited Olathe South to 131 total yards, including just 39 in the second half. They also forced the Sunflower League's leading passer into throwing three interceptions.
In addition, the Free State D bottled up senior running back Jake Byrd to the tune of nine carries for 15 yards.
"I don't think we could've asked for anything better from our defense," senior Taylor Stuart said. "The goal is never to get a shutout, the goal is to try to stop the offense. But we got the shutout, and we stopped the offense."
It wasn't that the Firebirds stopped the Falcons' offense as much as it was that they never let it get started. Olathe South entered the game averaging 43 plays per half. Friday, the Falcons ran just 44 plays all night.
Included in those plays were three interceptions, 10 incompletions and one blocked field goal.
"I knew going into this football game that if we could control the football and keep their offense off the field we'd have an opportunity to win the game," Lisher said. "The great thing is we didn't have to control the football. We did, but we didn't have to because our defense played so well tonight."
Cameron Schmidt and Mitch Werts joined Franz in snagging interceptions. Senior Jack Caywood disrupted things all night and ended up with a huge sack early in the second half. And senior linebacker Joe Riordan ran to the ball and through the ball carrier time after time.
Riordan said it was preparation that allowed the Firebirds to flourish.
"We watched film all week and the thing they drilled in our heads all week was cutback, cutback, cutback," Riordan said of the gameplan for stopping Byrd. "I felt we did a great job of that tonight. We closed our gaps as well as we could. It was a great night for our defense."
Lisher gave credit to his team's heart.
"All along we had confidence that our kids could make plays and we hurt for them because they weren't doing it. As coaches, we hurt for them because we knew what they were capable of. We had to find ways to put them in position to have some success and I give them all the credit in the world tonight because they did exactly what they needed to do."
While the defense was dominating, the Free State offense did its best to keep up. Senior tailback Chucky Hunter and junior quarterback Camren Torneden combined for 264 yards on the ground, and Torneden added another 79 yards through the air, connecting with five different receivers.
Torneden's accurate passing made his ability to run more dangerous. Hunter's propensity to draw a crowd made Torneden a bona fide weapon.
Torneden capped the Firebirds' first scoring drive with a 15-yard touchdown run. The TD followed three straight runs by Hunter, including a hard-earned fourth-down conversion. In the fourth quarter, Torneden's 20-yard touchdown run that put the game out of reach came after two Hunter carries and a Hunter reception.
Happy to show off his moves and dance through the line for most of his career, Hunter showcased his power on Friday, running straight ahead and refusing to go down.
"I'm done with all that," Hunter said of his jukes and shakes. "Now, I see what's there and I take it. I just want to lower my shoulder and fall forward for four yards. My linemen did a great job of blocking tonight and I just ran with it.
The victory improved Free State to 2-2 on the season and dropped Olathe South to 1-3. More importantly, it provided the Firebirds with a springboard for the rest of the season.
"Overall tonight, I thought we played somewhere up to where we should be," Lisher said. "But the great thing is I know we can still get a lot better. It finally all came together for us. Now we need to build on it."
Copyright 2018 The Lawrence Journal-World. All rights reserved. This material may not be published, broadcast, rewritten or redistributed. We strive to uphold our values for every story published.