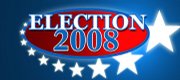 In-depth coverage of the candidates and the issues, all leading up to the Aug. 5 primary and the Nov. 4 general election.
An AARP-sponsored debate in Pittsburg, Kan., originally scheduled for Saturday has been postponed between Congresswoman Nancy Boyda, a Democrat, and challenger Lynn Jenkins, the Republican state treasurer.
Boyda's campaign announced the change Friday afternoon because Congress is still in session in Washington, D.C., working on the proposed financial sector bailout package.
The campaign had arranged for Boyda to appear at the debate via satellite from the AARP's national headquarters, but Thomas Seay, a Boyda spokesman, said the planned satellite feed had fallen through.
The debate will be postponed until Congress wraps up its legislative session, Seay said.
Copyright 2018 The Lawrence Journal-World. All rights reserved. This material may not be published, broadcast, rewritten or redistributed. We strive to uphold our values for every story published.