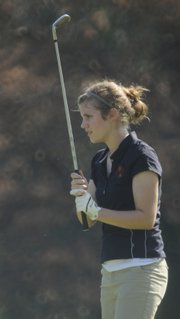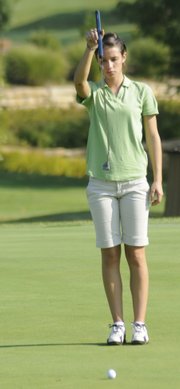 Smiles prevailed for the Lawrence High and Free State girls golf teams after Thursday's Lawrence High Invitational at Alvamar Golf Course.
But not all of them were good.
While some city golfers were pleased with their scores - a season- or course-best or simply something better than last week - others were so discouraged by their rounds that all they could do was laugh.
"I can't accept my score, I can't accept how I played," said Kathryn Lunte, who fired a 116. "I should have been able to break 100 at least."
Lunte was not alone in topping the century mark. All six Lions who played shot 116 or higher, good for a team score of 485 and a 19th-place finish.
The LHS golfers chose to focus on the positive aspects of their rounds.
"I think it was good because we learned what we need to work on," said Kristy Gerard, who shot a 120.
Leslie Queen, who started the tournament on a hole she had never played - No. 7 - learned a different lesson during her round of 126.
"It's such a mind game, I think it's really important that you realize that it's an 18-hole tournament. One bad hole is not going to mess up your entire round," Queen said.
Ashley Beiter (123), Mary Garzillo (127) and Taylor Covert (128) filled out the LHS scorecard.
Lawrence High coach Mike Lewis said his team played about the way he expected it would and added he was pleased to hear that his girls weren't happy with their rounds.
"They truly want to get better, which is nice to see from a coach's perspective," Lewis said.
On the Free State side of things, two Firebirds broke 100, but neither was particularly pleased about it.
Grace Brahler shot a 97, 10 strokes worse than her best score at Alvamar, and Kelly Morris shot a 98. Both said the enormity of the event had an impact on their play. Thursday's tourney featured 21 teams and nearly 100 golfers.
"It's a big tournament," Free State coach Craig Hershiser said. "And the atmosphere's just a lot different than a five- or six-team tournament."
The event carried the extra weight of being the first of two legs of the Sunflower League meet. The final round will be played Oct. 8 at St. Andrews Golf Club in Overland Park.
"I tend to put more pressure on myself in tournaments," said Brahler, who admitted that it was her putting that let her down Thursday. "I didn't even know it was the first part of the league tournament until I heard the other girls talking about it. I just need to go out and play more and work on my putting."
Morris' round had a good half and a bad half. After struggling with her drives and chipping during her first nine holes, Morris settled down and finished strong. She shot a 53 on the first nine and a 45 on the second.
"I just focused in a little more and set goals for every hole," Morris said. "I'm satisfied because I finished well, but I wouldn't say I'm completely happy."
Even the best days from the city's golfers might not have made a difference. Blue Valley West's Whitney Pyle won the event with a 73. The scores that joined Pyle in the top 10 included: 74, 76, 77, 78, 80, 81 and four 82s.
"There were a lot of teams and a lot of good players," Morris said. "It was a little intimidating."
Copyright 2017 The Lawrence Journal-World. All rights reserved. This material may not be published, broadcast, rewritten or redistributed. We strive to uphold our values for every story published.