Photo Gallery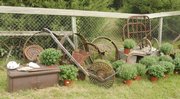 Kill Creek Park
Nothing quite surpasses discovering surprise jewels, and I have Lois Partlow to thank for opening my eyes to Kill Creek Park and the rock climbing/adventure park next door, Timber Ridge.
Just a few miles east of Lawrence, directly off of Kansas Highway 10, is the wonderful 900-acre Kill Creek Park. It boasts a number of assets, including a mountain bike course, the equestrian trails, hiking paths and paved biking paths that weave across the rugged, rolling hills.
The actual creek, Kill Creek, meanders through the property. There are also numerous ponds and a decent-sized lake with a marina, a beach and a view that is hard to beat.
Partlow is the "keeper" of the Kill Creek Park; her eclectic property is adjacent to the public recreation area and an entertaining space all unto itself with her fanciful collections, flock of peacocks and an expansive horse barn. Indeed, Partlow has fashioned a garden where there is a plethora to capture and intrigue a visitor's eyes for hours.
Of course, she has lived in her home for 32 years, so a bevy of plants has been sown and replanted, gardening beds constructed, ponds erected and odds and ends found and placed on display.
There is a collection of a dozen or more door knockers hanging together on a garden wall and another cluster of large, tin watering cans also displayed on a garden wall.
"Someone gave me one of this or that and then someone else will do the same and through the years those collections just keep growing," Partlow says.
Her property is a total of five acres, but she uses two of those acres as hay fields. Partlow suspects her property once was used as a burn pile because every time she digs she seems to come across little treasures.
"A lot of the items in my garden are farm pieces, like I have a potato digger for one," she says. "A friend of mine made this bench out of rebar. I tend to gather things that other people don't see the beauty in but to me I think the history is interesting. I hardly have anything new."
In fact, there are so many unique and unusual items, areas and plants to admire on Partlow's property that Hallmark came out one year and did some staging for their catalogs and cards. Plus a professional photographer often brings her subjects out to Partlow's land to utilize her bounty of "finds."
When the county started creating Kill Creek Park, Partlow watched from her ideal vantage point, and she had no qualms expressing her thoughts about the progress.
"I worked as a floral designer for years, and when I retired they were developing the park," she says. "So, I kept going over there and saying, 'You need someone to add some floral flair.' They finally hired me and that first day on the job I weeded the entire time."
Six years later, Partlow is expressing her opinions about the flora and yes, still weeding as well.
The park is a cinch to get to from Lawrence, and there are a slew of various activities to spend the day in the great outdoors, from archery to paddle boats to scaling rocks.
"It's a great place to walk on the trails or bike, we have a wonderful fishing lake that we keep stocked, it is really a destination spot for anyone," Partlow says. "Kill Creek Park has beautiful prairie restoration back by the walking trails, lots of pretty grasses, solidago, bee balm and other wild plants. The landscape is so beautiful with the changing seasons. Timber Ridge is reservation only, but my daughter had a birthday party for my grandkids there, people have weddings and then there are business retreats as well."
When Partlow isn't toiling away to beautify Kill Creek Park she is busily working in her own garden.
"When I was a young girl my grandmother and mother gardened," Partlow recalls, "My grandmother gave me my first plant, a Rubber Tree. To see the success and to know I was in charge of that trees growth was very empowering. Gardening is something I'm good at. It's healing there is a sense of therapy to it and its humbling and keeps me grounded."
Gardening assisted her in gathering her life together after the death of her husband. The property used to have many horses, but after her husband's death, Partlow could no longer care for them. She had this massive, rusty orange barn that was sitting unused.
"My friends kept saying, 'You have such a great barn. We should have a sale,'" she says. "They are incredibly creative people who are fabulous at their crafts. So, we have been having this huge craft sale for 17 years now, we have over 20 vendors. It gives them a place to come and be creative but this will be the final year."
This weekend will be the last for this barn bonanza with items including garden art, metal sculptures, furniture, jewelry, ceramics, foods, photography and holiday items. A great weekend getaway idea might be to go check out the barn sale and then fish a little at Kill Creek Park, take a bike ride or climb a rock wall - the activities are many and the landscapes are divine. This is another Kansas secret that I am so pleased Partlow whispered about in my ear.
Copyright 2018 The Lawrence Journal-World. All rights reserved. This material may not be published, broadcast, rewritten or redistributed. We strive to uphold our values for every story published.