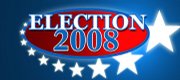 In-depth coverage of the candidates and the issues, all leading up to the Aug. 5 primary and the Nov. 4 general election.
Washington — Alaska Gov. Sarah Palin, in her third interview since joining the Republican presidential ticket, licked her finger and stuck it in the air, saying that Sen. Barack Obama might wait and "see what way the political wind's blowing" on the Wall Street rescue package.
The Republican vice presidential nominee told "CBS Evening News" anchor Katie Couric Wednesday that Sen. John McCain would take the lead in reforming Wall Street - or "we're going to find ourselves in another Great Depression." But Palin seemed stumped when pressed to cite examples of McCain trying to reform the banking industry, beyond urging greater restrictions on Fannie Mae and Freddie Mac. "I'll try to find some and I'll bring them to you," Palin said.
The interview came amid increasingly vocal complaints from journalists that the campaign is walling off its vice presidential nominee. Palin has been interviewed by Charles Gibson of ABC News and Sean Hannity of Fox News, but she has held no news conferences and has responded to exactly one question from the reporters who follow her around the country.
Since Palin's selection was announced Aug. 29, Democratic vice presidential nominee Sen. Joe Biden has held four news conferences and granted 89 interviews, sitting for Couric, "Meet the Press" and The Washington Post, among others.
CNN anchor Campbell Brown called the situation "unprecedented," saying in an interview that "as a journalist, my job is to get the truth, understand who this woman is, what she's about, whether she's qualified to be vice president. ... If she were a man, would we be putting up with this? Would the campaign be treating her like this? Would she be coddled this way, cloistered this way? I don't think so."
Copyright 2018 The Lawrence Journal-World. All rights reserved. This material may not be published, broadcast, rewritten or redistributed. We strive to uphold our values for every story published.