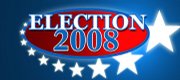 In-depth coverage of the candidates and the issues, all leading up to the Aug. 5 primary and the Nov. 4 general election.
New York — The economic crisis and raw politics threatened to derail the first presidential debate as John McCain challenged Barack Obama to delay Friday's event to work on the financial crisis. Obama rebuffed the plea, saying presidents need to "deal with more than one thing at once."
The White House rivals maneuvered Wednesday to claim the leadership role in resolving the economic turmoil that has overshadowed their campaign. Obama said he would continue preparing for the debate and consulting with bailout negotiators and Treasury Secretary Henry Paulson. McCain said he would stop all campaigning and return to Washington today to work toward a bipartisan solution.
"This is exactly the time when the American people need to hear from the person who, in approximately 40 days, will be responsible for dealing with this mess," Obama said in Clearwater, Fla. "It's going to be part of the president's job to deal with more than one thing at once."
But McCain said they must focus on a bipartisan solution as the Bush administration's $700 billion bailout proposal seemed headed for defeat. If not, McCain said ominously that credit will dry up, jeopardizing home sales, individual savings and company payrolls.
"I do not believe that the plan on the table will pass as it currently stands, and we are running out of time," McCain said.
Both candidates accepted President Bush's invitation to attend a White House meeting this afternoon with congressional leaders in hopes of agreeing on a rescue plan. McCain had spoken with Bush earlier Wednesday and requested such a meeting.
In a joint statement Wednesday night, the candidates said the country faces "a moment of economic crisis" and they called for political unity to solve it because "the jobs, savings and the prosperity of the American people are at stake." Both said Bush's plan was "flawed."
"We cannot risk an economic catastrophe," they said.
Sen. Lindsey Graham, R-S.C., McCain's representative in debate negotiations, told The Associated Press that McCain will not attend the debate unless there is agreement on a solution that is publicly endorsed by Obama, McCain, the White House and congressional leaders.
Asked whether the debate could go on, Obama spokesman Robert Gibbs said: "My sense is there's going to be a stage, a moderator, an audience and at least one presidential candidate."
The jockeying between McCain and Obama began after the senators spoke privately Wednesday.
McCain beat Obama to the punch with the first public statement. The surprise announcement was an attempt to outmaneuver Obama on an issue McCain trails on and as the Democrat gains in the polls. McCain went before TV cameras minutes after they spoke and before the campaigns could hammer out the agreed-upon joint statement.
Copyright 2018 The Associated Press. All rights reserved. This material may not be published, broadcast, rewritten or redistributed. We strive to uphold our values for every story published.