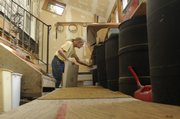 Related document

Green Living ( .PDF )
The massive solar hot water panels are the most prominent green feature of Michael Almon's east Lawrence home.
But Almon - whose green home-improvement projects date back 20 years - said those solar panels aren't the most important step to an energy-efficient home.
In fact, that component is nearly invisible. It's the insulation.
"It's the first thing you should do," Almon said. "So the heat doesn't escape."
In his case, Almon blew cellulose into the walls of his 80-year-old home. But that was just the beginning.
Almon's quest for a more green home moved on to upgrading windows and purchasing an energy-efficient washer and dryer.
It eventually lead him to build a solar-heat greenhouse on to the side of his kitchen. Inside the porch-like addition, eight 55-gallon barrels of water are heated by the sun rays coming through a south-facing glass wall of windows. In the winter time, that solar-heated water helps keep the rest of the house warm.
The biggest project began in 1995 when he salvaged five solar hot water panels off of a home in Old West Lawrence.
For the first five or six years the panels and the rest of the system sat dormant as Almon figured out how to make them work for his house.
After doing research and with the help of friend Rich Wenzel and engineer Steven Hughes, Almon decided to use the panels to heat his hot water and basement.
In the five-large solar panels outside his front yard, water is heated to as high as 200 degrees. That water is then circulated to a storage tank in his basement where the heat is exchanged to city-supplied water. That water is what flows through the home's faucets.
He also installed a series of looped tubes underneath his basement floor where the heated water flows through them warming the area.
Of course having a back-up is necessary and important. He has a tankless, on-demand hot water heat. Instantaneously, water is heated up when needed. And, there is a wood stove in Almon's living room for warmth.
As for the payoff, Almon spends about $200 a year on his heating bills. He says about half of his heat comes from the wood stove and the other half from the solar greenhouse and radiant floor. And, the insulation remains the foundation of the heating system.
"The wood stove and the solar greenhouse wouldn't have been feasible, if I didn't insulate," Almon said.
Copyright 2018 The Lawrence Journal-World. All rights reserved. This material may not be published, broadcast, rewritten or redistributed. We strive to uphold our values for every story published.