Photo Gallery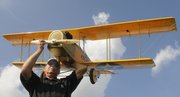 Big Bird air show
Past Event
When: Saturday, September 27, 2008, 9 a.m. to 5 p.m.
Where: Below Clinton Dam
Cost: Free
-->
-->
A mini-air armada is set to take over the skies above Clinton Lake this weekend, so don't be surprised if you see biplanes criss-crossing fighter jets.
The Jayhawk Model Masters are hosting their annual Big Bird air show, which takes place from 9 a.m. to 5 p.m. Saturday, and from 9 a.m. to 2 p.m. Sunday at the club's flying field below Clinton Dam. It is free and open to the public.
Patrick Deuser, president of the Jayhawk Model Masters, said the event has drawn people from as far as Iowa, Nebraska and Oklahoma, as hobbyists come to see huge model airplanes, some with a wingspan as big as five feet.
"These airplanes tend to be a little more detailed," he said. "They're definitely a lot bigger and easier to see, and they fly better. The guys flying them have been doing it for a long time."
While many planes will skew towards the traditional - think the Red Baron's World War I biplane - some novelty aircraft may be on display, too. Deuser said he is putting the finishing touches on a witch that rides a broom.
Experienced model airplane pilots will be available if anyone wants to try their hand at controlling the planes.
Gordon Fitch said events such as Big Bird are fun for the whole family. Fitch, 68, joined the club last year and took his 6-year-old grandson to last year's event.
"It's just really fun to watch the aircraft fly. Some of them are incredibly scale-oriented; others have incredible acrobatic ability," he said.
Deuser said he hopes people might gain an interest in the hobby, which he said has been "rewarding."
"It's taught me a lot of different skills," he said. "It's just been a very rewarding hobby, to be able to come up with an idea and make it fly, or make it work the way it's supposed to."
Copyright 2018 The Lawrence Journal-World. All rights reserved. This material may not be published, broadcast, rewritten or redistributed. We strive to uphold our values for every story published.