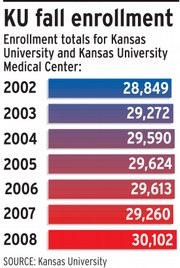 A record number - 30,102 students - enrolled at Kansas University for the fall semester.
KU leaders also touted the academic achievements of the large freshman class and the student body's diversity, as the Kansas Board of Regents released its fall 2008 enrollment head count.
"It's what I would call a triple victory," KU Chancellor Robert Hemenway said.
Since 2007, KU's total enrollment for the Lawrence and Edwards Campus in Overland Park increased 2.5 percent to 26,999 students. Kansas University Medical Center's enrollment jumped 6.3 percent - the highest percentage increase of any state university - to 3,103 students.
Hemenway credited the academic reputation of KU's faculty and the hard work of the admissions office for the spike.
First-time freshman enrollment was 4,483, and their average ACT composite score was 24.8, which was higher than the 24.6 average score for the 2007 class and the national average of 22.
Minority enrollment jumped to 12.7 percent.
Of the freshman class, black students increased by 27.8 percent and Latino students jumped by 23.4 percent compared with 2007 numbers. The new Sabatini Multicultural Resource Center near the Kansas Union probably helped provide a new facility for recruiters to show off, the chancellor said.
"They know that the university is going to be a welcoming environment," Hemenway said.
KU leaders on Thursday also touted the recently approved four-year tuition compact that locked a fixed tuition rate for this year's freshman class.
"The value of understanding what they are going to pay for four years is really helpful to families," said Heidi Simon, KU's associate director of freshman recruitment.
KU leaders noted the university received widespread attention in January and April after the football team's Orange Bowl victory and the men's basketball team's national title. Hemenway said no one shies away from reminding students about those successes, but he said KU probably won't see an admissions bump from that until next year's class.
Simon said 80 percent of applications were in before Dec. 31, 2007. The championships might have been the "icing on the cake" for many students, she said.
"We asked them why they chose KU and the most overwhelming response almost 70 percent was academic reputation," Simon said.
Outside the medical center's gains, the Lawrence campus accounted for the rest of the overall enrollment increase.
Bob Clark, vice chancellor for the Edwards Campus, said enrollment there was down 3 percent or by 45 students compared with 2007, mostly because the doctor of pharmacy online program is not taking new students.
The campus, which mostly serves working professionals, also had a huge graduating class last year, so the slight drop this year was not a concern, Clark said.
Hemenway said the higher enrollment numbers also offer challenges for trying to serve more students, but he said the news about record enrollment can also help morale among students, faculty and staff.
"KU offers the kind of education that modern students want," Hemenway said.
Overall in the Kansas Board of Regents system, all six state universities reported enrollment increases, including Fort Hays State University's 5.4 percent increase.
Copyright 2018 The Lawrence Journal-World. All rights reserved. This material may not be published, broadcast, rewritten or redistributed. We strive to uphold our values for every story published.