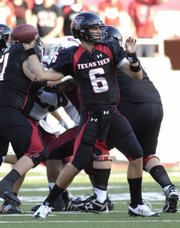 O Explosion
Nearly half the Big 12 schools are averaging more than 500 yards a game, led by NCAA pacesetter Missouri at 595.5. Texas Tech is third nationally at 572.8, Oklahoma fourth at 556.7 and Oklahoma State fifth at 546.0. Texas is ninth at 502.3. Kansas ranks 15th at 473.0.
Let's Throw
In this week's NCAA stats, Texas Tech leads the country in passing offense with Missouri third, Kansas fifth, Oklahoma seventh, Kansas State eighth and Texas 11th.
Scoreboard Busters
Oklahoma and Missouri rank 1-2 respectively in NCAA scoring this week. The Sooners are averaging 54.7 points a game. Missouri is at 53.8.
Meier Co-Leader
Kansas' Kerry Meier and Rice's James Casey share the NCAA lead in receptions. Each has 37. Meier had a career day against Sam Houston State with eight catches for 136 yards and his first TD of the season.
Branstetter Ranked
KU's Jacob Branstetter is among the NCAA leaders in field goals with six made in seven tries. Branstetter, a transfer from Air Force who didn't play in the opener, misfired on a 36-yarder in the third quarter against Sam Houston State, but drilled a 24-yard chip shot later in the same period.
Aggies Lagging
First-year coach Mike Sherman is off to a 1-2 start at Texas A&M; and statistics tell the story. The Aggies rank last in the Big 12 in both total offense and total defense.
Cyclones' Road Woes
After Saturday night's 34-31 overtime loss at UNLV, Iowa State has dropped 13 straight games outside of Ames, Iowa. The Cyclones have four more road trips this fall - to Baylor, Oklahoma State, Colorado and Kansas State.
Who's (Best) on Third?
So far Kansas is the Big 12's most efficient team on third down. The Jayhawks have converted 39 of 67 third-down attempts, or 58.2 percent. Oklahoma State is second at 52.9 percent.
Red Zone Perfection
Oklahoma is 18-for-18 within the red zone. When the Sooners are inside the opponent's 20-yard line, they have posted 17 touchdowns and one field goal.
Harrell Unharried
Texas Tech's Graham Harrell has thrown a Big 12-high 186 passes in four games, and he's been sacked just once. KU's Todd Reesing has tossed 179 aeriels and been sacked five times.
Kansas Ball Hogs
No school has done a better job of keeping its defense off the field than Kansas. The Jayhawks' lead the league by maintaining offensive possession for more than 34 minutes a game.
Golden kick
How's this for a game-winning prize? After booting the winning kick last week to give Colorado a 17-14 overtime victory against then-No. 21 West Virginia, Aric Goodman was awarded a scholarship by Colorado coach Dan Hawkins.
Copyright 2018 The Lawrence Journal-World. All rights reserved. This material may not be published, broadcast, rewritten or redistributed. We strive to uphold our values for every story published.