Photo Gallery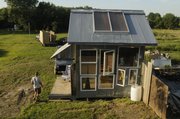 'Tom Thumb' home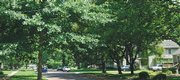 Welcome to our ongoing project, LJWorld.com/Green. Here you can find tips on how to make your life environmentally friendly and read stories about what others in the community are doing to live a more green lifestyle. Eat local, conserve resources, be green.
The possibilities are endless for the 120-square-foot building sitting behind Kenton Knowles' house: a writer's cabin, community gardening shed, guest cottage, self-contained entryway, a mobile living unit that could be set up in a friend's backyard for the summer.
The structure is about the size of a Tuff shed, but that's where the comparisons stop. Few storage sheds have tiled floors, wooden cabinets and stairs leading to an upstairs loft.
Knowles likes to call the design his "Tom Thumb homes," and the building sitting just behind his Vinland house is the green version.
Between jobs last winter, Knowles - a home designer and builder - decided to try something small: a building that could be constructed in his backyard and then moved to its final resting place.
In constructing the tiny home, Knowles put to use his background as an architect in Sweden, where he designed boats and lived with his family of five in a cramped city apartment.
He estimates the Tom Thumb home could sleep two comfortably, though four would be tight quarters.
While the size is the attention grabber, there are other green features.
The building was made almost completely out of recycled materials.
Passive solar energy was factored into the design with a wall of windows intended to sit 10 degrees to the southeast to catch the full extent of the sun's warmth in the winter. An overhang blocks the sun in the summer.
A solar panel sits on the roof. Hot water warmed by the solar panel could then be stored in a 55-gallon barrel in the living area. At night that water can be circulated in tubes throughout the floorboards for added warmth.
It's a small house with big ideas. Knowles believes such a house could be used at schools to teach children how to build green, become a hobby that is tinkered with over a few years or a design that is used in disaster-relief areas, providing a place to live that is eventually connected to a larger house.
"It opens all kinds of ideas of living simply and basically," Knowles said.
Copyright 2017 The Lawrence Journal-World. All rights reserved. This material may not be published, broadcast, rewritten or redistributed. We strive to uphold our values for every story published.